PFMS Trainings schedule for the month of April 2023 : PFMS O.M. dated 20.03.2023
C-13015(278-Apr)/MF.CGA/PFMS/2023-24/Training/7521-7570
Public Financial Management System
Department of Expenditure, Min. of Finance
B-411, 4th Floor Shivaji Stadium Annexe,
Connaught Place, New Delhi-1 10001.
Dated:20.03.2023
OFFICE MEMORANDUM
Approval of the competent authority has been accorded for the following trainings to be held in the month of April 2023 through Cisco Webex online mode, as per dates and time indicated here under:-
PFMS Trainings schedule for the month of April 2023

S. No
Module
Target Audience
Purpose
Trainer
Date
1.
 EAT

Module (Expenditure Advance &

Transfer)

All implementing agencies

receiving grant under PFMS for various schemes

Process or Receipt of Funds Filing Expenditure, Advance & Sett kmcnt and Transfer of funds to lower agency by Institutions/ implementing agencies
Shri Lakhapati Prasad

Chaurasia,

OA,

SD Maharashtra

05/04/2023
2.
Shri. Kulvir Singh, AO, M/O Woman & Child Development, Delhi
18/04/2023
3.
CNA

(Central

Nodal Agency)

Central Govt. Ministry/ Department Officials, Implementing Agencies

receiving grants under CNA Model II

Implementation of CNA for Central Sector Schemes for Schemes having a budget

outlay of less than 500 Cr

Shri Paresh Pande,

Sr.AO, PFMS Hq, Delhi

11/04/2023
4.
Shri Anup Katoch, Sr.AO, PFMS Hq, Delhi
25/04/2023
5.
TSA
Autonomous Bodies & CNA Model I
Sensitization on the process of

routing funds through RBI and use of DSC.

Procedural Do's and Don'ts

Shri. Girish Goel,

AAO, ITD, CGA, Delhi

13/04/2023
(Training Timings – 10.30 – 13.00 Hrs)
Nominations are invited from implementing agencies of Govt, Departments, Central Govt. Ministries for the above trainings. The registration for a module will be closed once the revistrations for each session reaches the required number or 48 hours before the date of training — whichever is earler. The selection will be on first come first served basis, linked to the date and time of registration that is tagged at the time of filling up the Google form. The nomination request Is to be sent online via the following link:-
https://forms.gle/2L8CXeGBpHRYKKmQA
INSTRUCTIONS:-
The trainings will be held online on Cisco WebEx platform.
It is mandatory for individual trainees to fill up the above Google form failing which they would net vet the link for training.
The Nomination has to be sponsored by — the competent authority of concerned Ministry/Department/ Institution/ Organization in writing.
The sponsoring letter is to be uploaded while filling the form.
An individual working for multiple schemes needs to register only once, but multiple schemes can be mentioned in column for scheme/module. However for different Training modules separate registration will be required.
Departments in States are required to contact their respective State Directorates for training on LA Module.
The training link will be sent to the email indicated in the registration form. The training link should not be shared with anyone. Any unauthorized person joining the training will be removed from the training by the host.
Due to stringent security restrictions, you are not allowed to record/screengrab the training materials/videos and share/upload them on any public domain.
The trainee is expected to join the on line training with his/her name only as registered ot the tine of filling up the Google form. Any one joining with name not matching the Google form or office name or designation will not be allowed to continue the training by the host (undersigned).
Please enter your correct email address, to avoid non-receipt of training link that will be sent to you by the same email.
For any clarification you may contact PFMS Training Cell on email address indicated below.
(Sushil Kumar Arya)
Sr. Accounts Officer (Trg.)
e-mail: training-pfms@ gov.in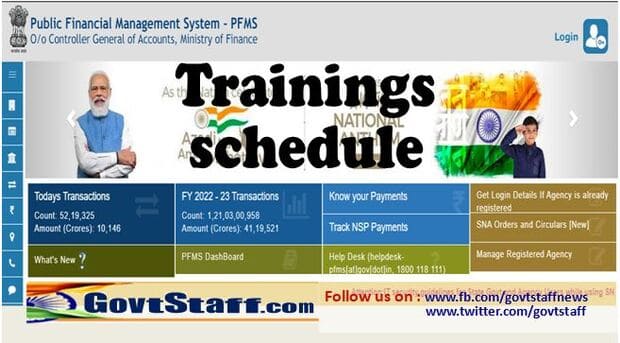 Copies to:
PPS to Addl.CGA (PFMS)
PA to All Jt. CGA (PFMS)
All Dy.CGAs (PFMS & ITD)
All ACGAs/ACAs (PFMS & ITD)
All Sr.AOs PFMS/ITD
All the Trainers as indicated above
Sr. AOs, Concerned PFMS State Directorates
Sr. AO, (ITD) O/o CGA, Mahalekha Niyantrak Bhawan with the request to upload this OM on CGA Website
AO, (Helpdesk) with the request to upload this OM on PEMS website
Sr. AO, INGAF for information
Sr. AO, Admin. for information
Source : Click to view/download PDF