Bhavishya Pension Processing Software/ भविष्य पेंशन प्रसंस्करण सॉफ्टवेयर
GOVERNMENT OF INDIA
MINISTRY OF PERSONNEL, PUBLIC GRIEVANCES AND PENSIONS
(DEPARTMENT OF PENSION & PENSIONERS' WELFARE)
LOK SABHA
UNSTARRED QUESTION NO. 3475
(ANSWERED ON 22.03.2023)
BHAVISHYA PENSION PROCESSING SOFTWARE
3475. SHRI KURUVA GORANTLA MADHAV:
Will the PRIME MINISTER be pleased to state:
(a) the details and features of the Bhavishya pension processing software;
(b) the details of benefits realised through the same; and
(c) the details of other measures being taken to ensure simplification of procedures to reduce delays in processing, disbursal and revision of pensionary benefits?
ANSWER
MINISTER OF STATE IN THE MINISTRY OF PERSONNEL, PUBLIC GRIEVANCES AND PENSIONS AND MINISTER OF STATE IN THE PRIME MINISTER'S OFFICE
(DR. JITENDRA SINGH)
(a) to (c): The Bhavishya Pension Sanction & Payment Tracking system(www.bhavishya.nic.in) is an initiative of Department of Pension & Pensioners' Welfare where pensioners can download pension slip and Form 16. It is integrated with DigiLocker and pensioners can get their e-PPO in DigiLocker. So far the Bhavishya is implemented in 97 Ministries/Departments/Apex Bodies, 818 offices, 7952 DDOs and 1,92,028 PPOs have been issued. To enhance the ease of living of pensioners, the DoPPW has operationalized the www.ipension.nic.in portal in which the following services are available- Bhavishya, CPENGRAMS, ANUBHAV, Pensioners' Portal, CGHS, Sankalp, JeevanPraman and Dashboards on performance and pension circulars.
*****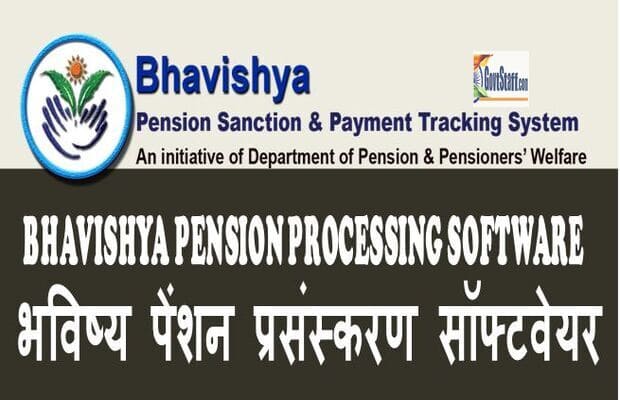 भारत सरकार
कामिक, लोक शिकायत और पेंशन मंत्रालय
(पेंशन और पैशनभोगी कल्याण विभाग)
लोकसभा
अताराकित प्रश्न सं, – 3475
(दिनाक 22-03-2023 को उत्तर दिया गया)
भविष्य पेंशन प्रसंस्करण सॉफ्टवेयर
3475. श्री कुरुवा गोरांतला माधव:
क्या प्रधान मंत्री यह बताने की कृपा करेंगे कि:
(क) भविष्य पैशन प्रसंस्करण सॉफ्टवेयर का ब्यौरा और विशेषताएं क्‍या हैं;
(ख) इसके माध्यम से प्राप्त हुए लाभों का ब्यौरा क्‍या है: और
(ग) पेंशन संबंधी लाभों के प्रसंस्करण, संवितरण और संशोधन में देरी को कम करने के लिए प्रक्रियाओं का सरलीकरण सुनिश्चित करने हेतु किए जा रहे अन्य उपायों का ब्यौरा क्‍या है?
उत्तर
कार्मिक, लोक शिकायत और पेंशन मंत्रालय और प्रधानमंत्री कार्यालय में राज्य मंत्री (डॉ. जितेंद्र सिंह)
(क) से (ग): भविष्य, पेंशन संस्वीकृति और भुगतान ट्रैकिंग प्रणाली (www.bhavishya.nic.in) पेंशन और पेंशनभोगी कल्याण विभाग की एक पहल है जहां से पेंशनभोगी पेंशन पर्ची और फॉर्म 16 डाउनलोड कर सकते हैं। यह डिजिलॉँकर के साथ एकीकृत है और पेंशनभोगी अपना ई-पीपीओ डिजिलॉकर में प्राप्त कर सकते हैं। अब तक 97 मंत्रालयों/विभागों/शीर्ष निकायों, 818 कार्यालयों, 7952 डीडीओ में भविष्य लागू है और 1,92,028 पीपीओ जारी किए जा चुके हैं। पेशनभोगियों के जीवन को सुविधापूर्ण बनाने के लिए, पेंशन और पेंशनभोगी कल्याण विभाग ने www.ipension.nic.in पोर्टल को कार्यान्वित किया है जिसमें निम्नलिखित सेवाएं उपलब्ध हैं- भविष्य, सीपेनग्राम्स, अनुभव, पेंशनर्स पोर्टल, सीजीएचएस, संकल्प, जीवन प्रमाण और प्रदर्शन तथा पेंशन परिपत्रों पर डैशबोर्ड।
Source : Click to view/download PDF