NPS Oversight Mechanism and PRAN Generation – NPS Workshop on 04.07.2023 for PAO/DDO through VC link.
PRINCIPAL CONTROLLER OF DEFNECE ACCOUNTS
Sector-9, Chandigarh-160009
Ph: EPABX Nos: 2741611-614, 2741990, 2740445
Ext .260,263 Fax- 2742552
E-mail: [email protected]
Website : pcdawc.gov.in
FC/11/CHD/NPS/Circular
Dated :21/06/2023
To
The Officer in Charge
1. Pay Section (Local)
2. AN Pay (Local)
2. AAO (Pay) WC, Jalandhar Cantt
3. AAO (Pay) WC, Pathankot Cantt
4. PAO, (OR) 14 GTC, Solan
5. All AOGEs under PCDA(WC) Chandigarh
Sub:-NPS Oversight Mechanism and PRAN Generation – NPS Workshop
Ref:- CGDA HQrs letter No NPS-CORR/12/2020-NPS/Vol-II dated 31.05.2023
In compliance of HQrs letter cited under reference, NPS Workshop is scheduled to be held on 04.07.2023 at M.O., PCDA WC. The workshop will be attended by the representatives of NSDL (Now PROTEAN).
2 All the PAOs are directed to sensitise their concerned officers and staff and underlying DDOs to attend the workshop mandatorily. Any problem faced by PAOs/DDOs in NPS may also be taken up in the proposed forthcoming workshop by respective PAO/DDO.
3 It is also requested that important query/problem area/question may be submitted to this office, through email on [email protected] by 23.06.2023 for taking up them with representatives of PRAOTEAN.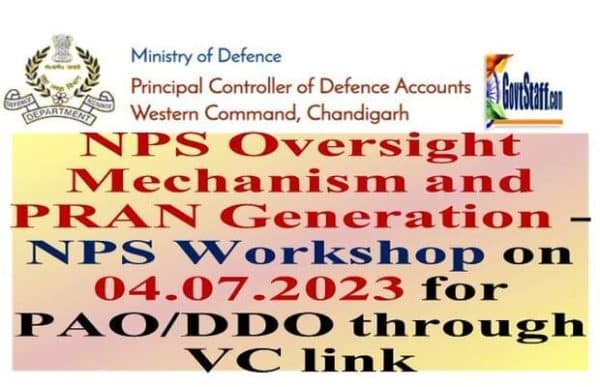 4 The schedule and VC link of the workshop will be intimated in due course.
(M.P. Mandan)
Asst. Controller