Clarifications/ modifications in the LTC instructions on Central Civil Services (Leave Travel Concession) Rules, 1988 — Department of Telecom forward DoE OM vide Circular No. 208
No. 7-26(04)/2020-PAT
Government of India
Ministry of Communications
Department of Telecommunications
1120, Sanchar Bhawan,
20-Ashoka Road, New Delhi-110001
Dated: 22/08/2023
CIRCULAR NO. 208
Sub.: Central Civil Services (Leave Travel Concession) Rules, 1988 — clarifications/ modifications in the LTC instructions regarding.
The undersigned is directed to forward herewith a copy of Ministry of Personnel, Public Grievances & Pensions, Department of Personnel & Training OM No. 31011/17/2023-Estt.A-IV dated 10.08.2023 on the subject cited above for information and necessary action.
Encl.: As above
CCS (LTC) Rules 1988 – Clarifications/ Modifications in the LTC Instructions issued by DoPT vide O.M dated 10.08.2023
(Vikas)
Asstt. Director General (PAT)
Phone: 23036245
Copy to:
PPS to Secretary (Telecom.).
PPS to Member(S)/Member(F)/Member(T).
PPS to Director General, Telecom/CGCA.
PPS to Additional Secretary(T).
All Advisors/DG(NTIPRIT)/Sr.DDG(TEC)/(NCCS).
The Chairman, TRAI.
All Heads of L.S.As/C.C.As.
CMD, BSNL/MTNL/TCIL/BBNL/ITI.
Executive Director, C-DOT/Dir., MO, New Delhi.
All DDGs/Directors of DoT.
PAO and all the concerned Sections, DoT, New Delhi.
SO (Pay Bill), DoT, Hq., Sanchar Bhavan, New Delhi.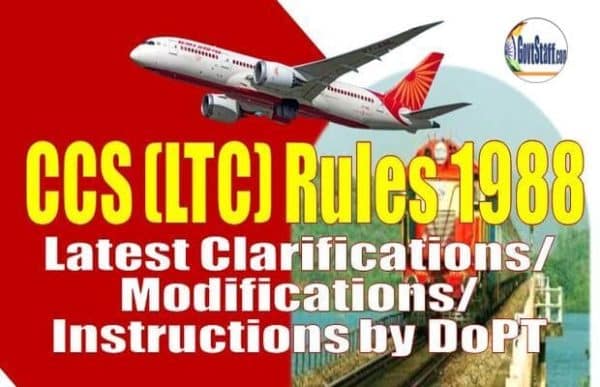 सं. 7-26(04)/2020-पी.ए.टी.
भारत सरकार
संचार मंत्रालय
दूरसंचार विभाग
1120, संचार भवन,
20-अशोका रोड, नई दिल्ली-110001
दिनांक: 22/08/2023
परिपत्र सं. : 208
विषय: केंद्रीय सिविल सेवा (छुट्टी यात्रा रियायत) नियम, 1988 – एलटीसी अनुदेशों में स्पष्टीकरण/संशोधन के संबंध में।
अधोहस्ताक्षरी को उपर्युक्त विषय के संबंध में कार्मिक, लोक शिकायत और पेंशन मंत्रालय, कार्मिक एवं प्रशिक्षण विभाग के कार्यालय ज्ञापन सं. 31011/17/2023-Estt.A-IV दिनांक 10.08.2023 को सूचना एवं आवश्यक कार्रवाई हेतु अग्रेषित करने का निदेश हुआ है।
संलग्रक: उपरोक्त अनुसार
CCS (LTC) Rules 1988 – Clarifications/ Modifications in the LTC Instructions issued by DoPT vide O.M dated 10.08.2023
(विकास)
सहायक महानिदेशक (पी.ए.टी)
दूरभाष: 23036245
प्रति:
सचिव (दूरसंचार) के प्रधान निजी सचिव।
सदस्य(सेवाएं)/सदस्य(वित्त)/सदस्य(प्रौदयौगिकी)के प्रधान निजी सचिव।
महानिदेशक दूरसंचार /सीजीसीए के प्रधान निजी सचिव।
अपर सचिव(दूरसंचार) के प्रधान निजी सचिव।
सभी सलाहकार /डीजी (एनटीआईपीआरआईटी)/ वरिष्ठ उपमहानिदेशक(टीईसी)/ एनसीसीएस।
अध्यक्ष, ट्राई।
एल.एस.ए. /सी.सी.ए. के सभी प्रमुख।
बीएसएनएल/एमटीएनएल/टीसीआईएल/आईटीआई के अध्यक्ष व प्रबंध महानिदेशक।
कार्यकारी निदेशक, सी-डाँट /निदेशक, डबल्‍यु.एम.ओ., नई दिल्ली।
दूरसंचार विभाग के सभी उप-महानिदेशक / निदेशक।
वेतन एवं लेखा विभाग कार्यालय और सभी संबंधित अनुभाग, दूरसंचार विभाग, नई दिल्ली।
अनुभाग अधिकारी (वेतन बिल), दूरसंचार विभाग मुख्यालय, सचार भवन।