Increasing efficiency of Indian Railways' Locomotives' maintenance and operations – Railway Board Order dated 31.07.2020
GOVERNMENT OF INDIA
MINISTRY OF RAILWAYS
(RAILWAY BOARD)
No.2020/E&R/7(13)/3
New Delhi, Dated 31.07.2020
The General Managers, All Indian Railways/PUs, NF/Con., CORE,
The DG/RDSO/Lucknow, DG/NAIR/Vadodara
CAOs, DMW/Patiala, WPO/Patna, COFMOW/NDLS, RWP/Bela, CAO/IROAF
Sub: Increasing efficiency of Indian Railways: Locomotives' maintenance & operations regarding Trip Schedules.
Ref: (i) Railway Board's Letter No 2004/ M(L)/466/802 dt 11.03.2010.
(ii) Indian Railways Manual of Ac Traction (Volume III), Chapter III.
In order to bring in efficiency in locomotive maintenance, Board (MTR, MT & CRB) have approved the following:
Trip Schedules of all types of locomotives may now be undertaken in any of the Loco Shed/Trip Shed of Indian Railways. Zonal Railways may suitably augment their facilities, if required.
Electric & Diesel Trip Sheds may be integrated, if these are existing at the same station.
Information regarding due date of the next Trip Schedule may be made available in the locomotive Log Book/at nominated places/on nominated Digital system, for timely dissemination of information to the nearest Loco Shed/ Trip Shed.
Online loco schedule monitoring mechanism may be instituted, integrating all sheds over IR. Traction Directorate of Railway Board will issue the necessary instructions and monitor the same till it gets stabilized over next 6 (six) months.
Manpower may be suitably trained and utilized to maintain both types of
locomotives (Electric/Diesel).
Next higher schedule (after trip schedule) of foreign locos (both Electric/Diesel Monthly/IA as the case may be) may be carried out at the shed(s), where that type of schedule (monthly/IA) of homed locos is already being carried out.
Kindly acknowledge the receipt and ensure compliance.
(Umesh Balonda)
Executive Director, Efficiency & Research
E-mail: [email protected]
Copy: As per list attached.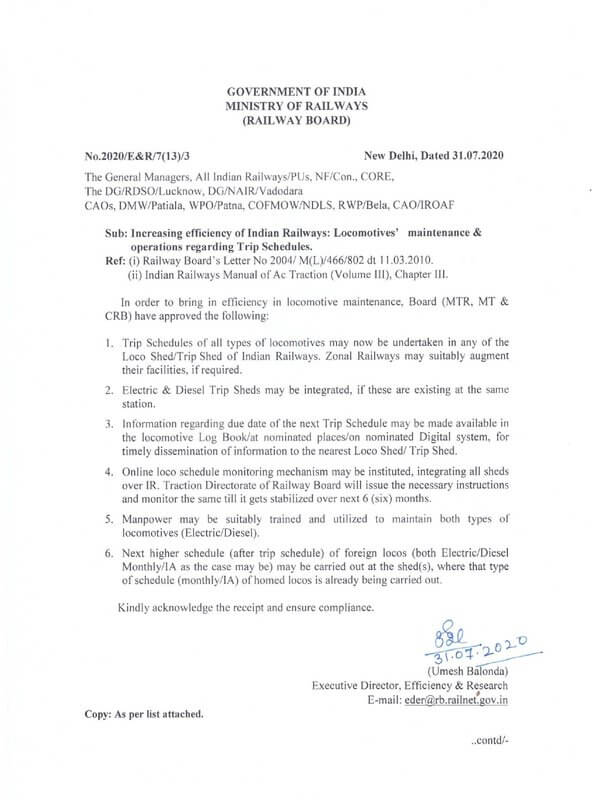 Source: Railway Board