7th Pay Commission: Grant of Advance Increments to Stenographers of Subordinate Offices on qualifying speed test in shorthand
Through PCDA (WC) website only
भारत सरकार GOVERNMENT OF INDIA
रक्षा मंत्रालय MINISTRY OF DEFENCE
कार्यालय: रक्षा लेखा प्रधान नियंत्रक (प.क.), सेक्‍टर-9, चण्‍डीगढ़
PRINCIPAL CONTROLLER OF DEFENCE ACCOUNTS (WC)
SECTOR -9, CHANDIGARH Tel No.: 0172-2741611-14
FAX: 0172-2742552 E-mail: [email protected]
No. AN/II/1105/Speed Test
17.11.2020
Circular
To
1. All sections in Main office
2. All Sub offices under PCDA (WC) Chandigarh including IFAs
Sub: Advanced increments granted to Stenographers of Subordinate Offices on qualifying speed test in shorthand at 100/120 w.p.m. in the 7th CPC Scenario – reg.
HQrs office vide their letter No. AN/XIV/14164/7th CPC/Vol-III/Steno dated
04.11.2020 has forwarded DoP&T OM No. F. No. 1/7/2017-Estt (Pay-I) dated 24th July 2020 regarding grant of advance increments to Stenographers of Subordinate Offices for qualifying speed test at 100/120 w.p.m. with effect from 01.01.2016 (copy enclosed). The contents of the O.M. dated 24.07.2020 of GOI, DoP&T may please be brought to the notice of all concerned.
2. Accordingly, the enclosed prescribed proforma for Steno Skill Test may be got completed in duplicate from willing Stenographers and forwarded to Admin – 2 section of this office not later than 04.12.2020 for onward transmission to SSC, Chandigarh for their further necessary action. It may be noted that no action will be taken on incomplete/delayed submission of the aforesaid proforma. As such, the time limit mentioned above, shall be Strictly adhered to.
GO (AN) has seen.
Encl.: As above.
7th Pay Commission Advance Increment: DoPT OM on granting advance increment to Stenographers of Subordinate Offices
(N.C. DQGRA)
SR. ACCOUNTS OFFICER (AN)
Copy to:-
The I T & S Section (Local) For uploading the circular & proforma on website.
Sd/-
(ANURAG THAPA)
ASSTT. ACCOUNTS OFFICER (AN)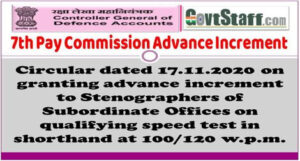 Source: Click here to view/download PDF
https://pcdawc.gov.in/images/pdf/circulars/admin/general/6910_advance.PDF