Allotment for MBBS Seat to Children of COVID Warrior, Format of Application, Format of Certificate and Directorate & Office details
Office of MCC
GOVERNMENT OF INDIA
DIRECTORATE GENERAL OF HEALTH SERVICES
NIRMAN BHAWAN, NEW DELHI-110108
F.No. U-11011 /16 /20 20 -MEC
Dated: 05.12.2020
NOTICE FOR CHILDREN OF
COVID WARRIOR
Dear Candidate,
It is for the information to all the candidates, who have appeared and qualified for NEET examination conducted by the National Testing Agency (NTA) in September,2020, that Ministry of Health and Family Welfare have decided to allot 5(five) MBBS Seats to Children of COVID Warriors. Medical Counselling Committee, Directorate General of Health Services invites applications from interested and eligible Children of "COVID Warriors (Deceased)" through respective Directorate of Medical Education (DME)/ Directorate Health Services (DHS) of their domicile states.
The applications, filled in the Format appended below, along with all supporting documents, duly certified by respective Directorate of Medical Education (DME)/ Directorate Health Services (DHS), Should be submitted to respective DME/DHS. who will then forward to MCC for allotment as per NEET Merit.
Terms & Conditions for eligibility :
a) Definition of COVID Warrior: As defined by the Ministry of Health & FW vide their OM dated 18.11.2020 and 23.11.2020, which is quoted below:
"Covid Warriors means Public healthcare providers including community health workers, who may have to be in direct contact and care of COVID-19 patients and who may be at risk of being impacted by this. Private hospital staff and retired/volunteer/local urban bodies/contractual/daily wage/ad-hoc/outsourced staff requisitioned by States/Central hospitals/autonomous hospitals of Central/States/UTs, AIIMS and INIs/Hospitals of Central Ministries drafted for COVID-19 related responsibilities are also included."
b) Only NEET Qualified and eligible children of COVID Warriors to be considered;
c) Nominations/ Applications to be routed through respective Director Medical Education/ Director of Health Services of concerned State/UT after scrutiny about their eligibility;
d) Candidates are required to state their preference of medical colleges where one seat in each college is made available. The names of the colleges are:
(i) Lady Hardinge Medical College, New Delhi (for Girls only),
(ii) MGMS, Wardha, Maharashtra
(iii) NSCB Medical College, Jabalpur, MP
(iv) JLN Medical College, Ajmer, Rajasthan
(v) Govt. Medical College, Haldwani , Uttarakhand
---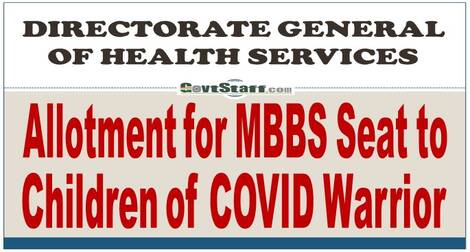 Dte. General of Health Services
Medical Counselling Committee
Central Pool MBBS Seats under MoHFW
for Children of Covid Warriors (Deceased)
Format for submission of Application for allotment of Central Pool MBBS Seats under MoHFW for wards of Covid Warriors (Deceased)
| | | |
| --- | --- | --- |
| 1. | Candidate's Name: | |
| 2. | Relationship with Covid Warrior: | |
| 3. | Father's/Mother's Name | |
| 4. | Gender: | |
| 5. | NEET All India Rank: | |
| 6. | NEET Roll Number: | |
| 7. | Choices of Colleges in order of Preference: | |
| 8. | Adhaar Card Number: | |
| 9. | Medical Report: | |
| 10. | Death Certificate: | |
| 11. | Covid Insurance Scheme Number, if any: | |
| 12. | State authority certifying the COVID Warrior Sacrificed his/her life fighting the pandemic on duty in………………. and is eligible for Nomination to Covid Warrior Central Pool Quota. | |
| 13. | Signature of Candidate: | |
---
FORMAT OF CERTIFICATE OF ELIGIBILITY FOR CONSIDERATION OF ALLOTMENT OF MBBS SEAT IN CENTRAL POOL FOR WARDS OF COVID WARRIORS
Photograph
Of the Candidate
Attested by the Director Medical Education/
Director Health Services
Shri/Smt. …………………………………………………, aged…………………….. son/daughter of……………………………………………., resident of …………………………………………………………….. employed in…………………………………. as(Designation)……………………………………….is certified to have expired vide Death Certificate No………………………………………. issued by (issuing Authority……………………………………………………while serving at …………………………….. in designated COVID related duty.
Mr./Kum. ………………………….Son/daughter of above referred Covid Warrior (Deceased) has qualified for NEET vide Roll No. ……………… All India Rank No……………………. intends to pursue Medical Education (MBBS) and hence his/her application, in the format prescribed by the DGHS(Ministry of Health & Family Welfare, is being forwarded herewith for consideration.
Signature with Official Seal
Director Medical Education/
Director Health Services
Source: Click here to view/download PDF