Organising "Women's Day" on 8th March, 2022 as part of the Azadi Ka Amrit Mahotsav – Railway Board
MOST IMMEDIATE
INTERNATIONAL WOMEN'S DAY CELEBRATION
भारत सरकार/ GOVERNMENT OF INDIA
रेल मंत्रालय/ MINISTRY OF RAILWAYS
(रेलवे बोर्ड)/ (RAILWAY BOARD)
No.2022/E(LL)/NPWE/2
New Delhi, Dated: 07. 03.2022
The General Managers,
All Zonal Railways, Production Units,
Metro Railway/Kolkata,
CORE/Prayagraj, RWP/Bela,WPO/Patna,
The Director General, RDSO, Lucknow,
The Director General, NAIR, Vadodara,
CAO/COFMOW.
Sub: Organising "Women's Day" on 8th March, 2022 as part of the Azadi Ka Amrit Mahotsav.
Ref: Railway Board's letter of even number dated 20.01.2022.
Please find enclosed copy of D.O. letter No. WD/IC-11/1/2022-WD/IC-Part(1) (e-98780) dated 25th February, 2022 on the above mentioned subject for guidance and compliance.
2. This year, National Implementation Committee, chaired by Hon'ble Home Minister, has inter-alia approved the event "Women's Day" on 8th March, 2022 to be celebrated as part of the Azadi Ka Amrit Mahotsav (AKAM).
3. All GMs are requested that engaging events/programs are organized at the field levels in the run up to IWD and on the 8th March, 2022 to promote and celebrate women empowerment in all its dimensions. Further, the schedule of the planned events/programmes /activities may be shared with the Ministry of Women & Child Develop merit at email id: sec-ic-mwcd[at]gov.in by 02.03.2022 and report on the initiatives and activities undertaken may be shared at by 15.03.2022.
4. Compliance with the instructions may please be ensured by all Zonal Railways, PUs,
(Praveen Kumar)
Director Estt.(L.L.)
Railway Board
DA: As above.
Copy to: Advisor/MR, OSD/MR,OSD/Co-ord/MR, Additional PS/MR.
JS, Director/GA, US/RB(W)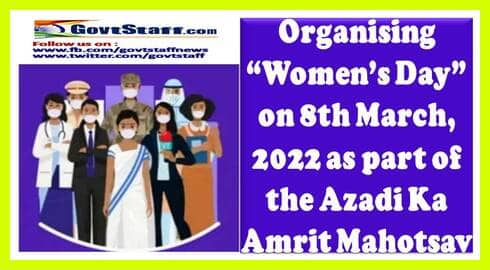 Source: Click here to view/download PDF