Workshop on Office Procedure, Noting and Drafting on 23-24 June 2022 – Application proforma : DHTI
OFFICE OF THE JS & CAO
(Defence Headquarters Training Institute)
Sub: WORKSHOP ON OFFICE PROCEDURE, NOTING & DRAFTING (23-24 JUN 2022)
1. Detence Headquarters Training Institute (DHTI) will be organizing a two day's workshop on Office Procedure, Noting & Drafting on 23-24 Jun 2022 in its premises at 77 Floor, 'A' Block, Defence Offices Complex, Africa Avenue. The course is of full day duration from 0930 hrs to 1700 hrs.
2. Eligibility: The workshop is meant for all AFHQ Officials and Service Personnel working in various service HQs/ISOs. The course capacity is 25. Applicant should preferably be below 58 years of age.
3. Aim of the course: The aim of the course is to equip the participants with knowledge and skills to relate to Office Procedure, Noting & Drafting.
3. Objectives:
To state steps involved in Office Procedure. '
To determine the quantum of noting in different types of cases.
To edit office writing to make it simple and meaningful.
To write a structured note with reference to a given problem.
To identify suitable forms of communication for communication of
govt. decision.
To list minor staff duties,
Draft an effective official communication.
4… The applications of officers desirous of undergoing the workshop may be forwarded in proforma at Appendix 'A' to this note, duly recommended by 15 Jun 2022 (Wednesday). Selection of the candidates will be based on first come, first served basis.
(Gunjan Gandhi)
Dy. Director, DHTI
Tele: 24199427
AS PER STANDARD DISTRIBUTION LIST
Copy to:-
CAP/EDP Cell: For uploading on CAO's website.
MoD, JS & CAO, I.D. No.A/26002/112/CAO/Trg dt. 05 May 2022
Appendix to I.D. Note No. A/26002/112/CAO/Trg dt 05 May 2022
WORKSHOP ON OFFICE PROCEDURE, NOTING & DRAFTING
(23-24 Jun 2022)
APPLICATION PROFORMA
1.
Name  (In English)
(In Devnagri Script)
:
2.
Employment ID No./Service No.
:
3.
Date of Birth
:
4.
Designation
:
5.
Nature of Duties being performed at present clearly bringing out involvement.
:
6.
Complete Office Address
(including Directorate, Room No., Block No. etc)
:
7.
Telephone No*
:
(Signature of the Applicant)
RECOMMENDATION OF THE OFFICER UNDER WHOM WORKING
File No. ……………………………………………………………………… dt ………………………….
Certified that in the event of selection of, Shr/Smt/Kum ____________________________________________ for the above mentioned course, he/she will be relieved by this office to attend the course.
Signature :
Name & Designation :
Office & Tele No. :
CAO/DHTI, 7th Floor, A-Block
Africa Avenue, New Delhi-23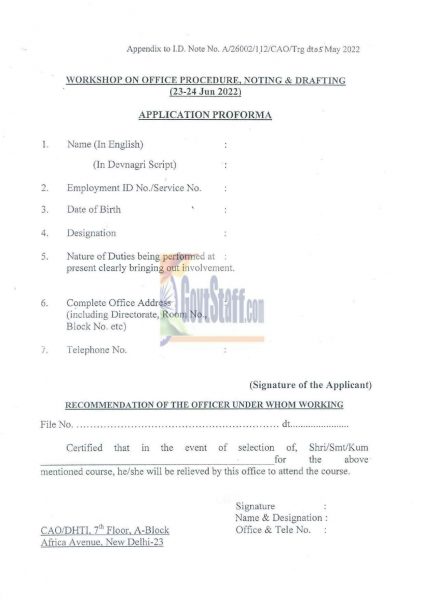 Source : Click to view/download PDF
https://caomod.nic.in/DHTI/Workshop_office_proc_23-24jun22.pdf