Workshop on Right to Information Act on 20 June 2022 – Application Proforma : DGTI Notification
MINISTRY OF DEFENCE
(OFFICE OF JS & CAO)
(DEFENCE HEADQUARTERS TRAINING INSTITUTE)
Sub: WORKSHOP ON RIGHT TO INFORMATION ACT ON 20 JUNE 2022
1. The Defence Headquarters Training Institute will be conducting a workshop on "Right to Information Act" on 20 June 2022 in its premises located at, DHTI, 7th Floor A-Block, Defence Office Complex, Africa Avenue, New Delhi-23. The workshop will be held from 10:00 AM to 04:30 PM.
2. Eligibility: The workshop is meant for all AFHQ officers and Service officers working in various Service HQs/ISOs who are dealing with or are expected to deal with Right to Information Act.
3. Aim of the course: The aim of the course is to equip the participants with knowledge and skills to handle the work of PIOs and help the Ministries/ Departments/Organisations in implementing the provisions of the Right to Information Act.
4. Objectives:
Purpose and concept of Right to Information.
Salient features of Act and possible implications
Process of seeking and providing information
List of exemptions prescribed
Procedure of appeals and penalties imposable by Information Commission
Responsibilities of Public Authorities
Recent developments in the field of RTI.
3. The workshop capacity is 15 participants. Nominations will be accepted on first come first basis. The applications of eligible officers, desirous of undergoing the workshop, may be forwarded by 14 June 2022, as per proforma at Appendix 'A' to this note, duly recommended.
(Deepti Rawat)
Asstt. Director, DHTI
Tele: 24199469
AS PER STANDARD DISTRIBUTION LIST
Copy to:-
CAO/ EDP Cell: For uploading on CAO's website
MoD, O/o JS & CAO, ID No. A/26003/12/CAO/Trg dated 06 May 2022
Appendix 'A' to
ID No. A/26003/12/CAO/Trg dated 06 May 2022
WORKSHOP ON RIGHT TO INFORMATION ACT
(20 JUNE 2022)
APPLICATION PROFORMA
1.
Name  (English)
(Hindi)
:
Sh/Smt/Kum. ____________
2.
Date of Birth
:
______________________
3.
Designation & Date of Appt in the Grade
:
______________________
4.
Employee ID No.**
:
______________________
5.
Present functional area & broad job description
:
______________________
6.
Office Address (Including Room No., Block, Wing, Building etc.)
:
______________________
7.
Office Telephone No*
:
______________________
8.
Mobile No.*
:
______________________
I confirm that I shall attend the classes as per the mandated date and time.
(Applicant's Signature)
RECOMMENDATION OF THE OFFICER UNDER WHOM WORKING
Certified that in the event of selection, Shri/Smt/Kum ______________ for the course, he/she will be relieved by this office to attend the workshop.
Date
Signature
Name & Designation
Office & Tele No.
* MANDATORY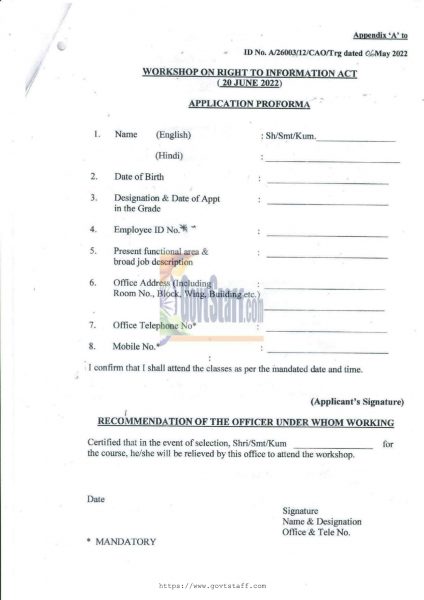 Source: Click to view/download PDF
https://caomod.nic.in/DHTI/Workshop_RTI_20jun22.pdf