Handling of Court Cases in the field offices – Full attention should be paid to Policy or Pay related cases – Railway Board order
GOVERNMENT OF INDIA
MINISTRY OF RAILWAYS
RAILWAY BOARD
No. PCVI/2011/CC/1
New Delhi, dated:- 16/08/2022
The PCPQs,
All Zonal Railways/PUs,
(as per mailing list)
The PFAs,
All Zonal Railways/PUs,
(as per mailing list)
Sub: Handling of Court Cases in the field offices.
A number of cases on various important policy issues pertaining to pay related matters have been filed by Railway employees before various courts of law which are being contested by Zonal Railways/PUs at different levels in consultation with Pay Commission Directorate/Railway Board. It has been time and again re-iterated by Railway Board through periodic communications and meetings that these cases should be monitored at the level of a JAG officer or higher level to ensure that the cases are contested effectively.
2. However, an instance has come to the notice of this office wherein a case relating to one of the important policy decisions of Board has been dismissed/decided ex-parte by the concerned High Court for non-prosecution as the contesting Advocate appearing on behalf of Railway administration was not present on the listed date of hearing. It is observed that the above dismissal of case is due to lack of effective monitoring at the desired level.
2.1 Such cases on policy/pay related issues have huge ramifications/financial implications and any adverse judgment if implemented would have a cascading effect on similar cases and also have far reaching consequences as it would result in similar demands from various other categories in Railways.
3. In order to avoid such laxity in future while defending the interests of UoI before the respective court of law, it is advised that the concerned advocate appearing on behalf of UoI may be adequately briefed beforehand and instructed to ensure his presence on each hearing invariably to prevent the case being decided ex-parte.
4. Non-appearance by the concerned advocate before the Hon'ble Tribunal/Court on the day of hearing should be viewed seriously and appropriate action in this regard may be taken by the competent authority. Needless to say, full attention should be paid to such cases and monitored regularly by a competent JAG level officer or higher level as any laxity would result in huge ramifications on similar cases filed before various courts of law.
5. Receipt of this letter may please be acknowledged.
(Sahjeet)
Executive Director/Pay Commission
Railway Board
Email: [email protected]
4th Floor, Room No. 7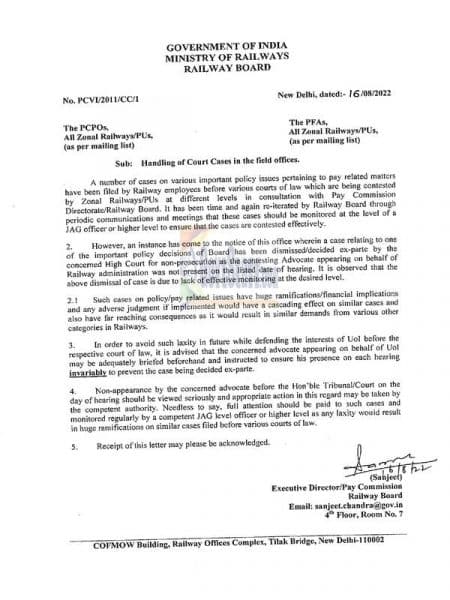 Source: Click to view/download PDF