Railway Board Order on Referring of cases to CBI by ZRs/PUs/PSUs/Other units
GOVERNMENT OF INDIA
MINISTRY OF RAILWAYS
(RAILWAY BOARD)
No. 2019/V1/IRVM/1/2
New Delhi, Date 09.11.2020
The General Managers
All Zonal Railways
CAO/COFMOW
DMW/Patiala
The SDGMs/CVOs
All Zonal Railways/PSUs/PUs
CORE/ALO,
Metro/Kolkata,
DG RDSO/LKO
Sub: Referring of cases to CBI by ZRs/PUs/PSUs/Other units
It has come to notice of Board vigilance that prescribed procedure for referring of cases by ZR/PU/other units to CBI was not followed properly in two cases. In this regard, attention is drawn to Para 304.9 of IRVM 2018, wherein for officials up to SG, the case shall be referred to CBI with the approval of the General Manager/Managing Director. For officers in SA Grade and above, the case shall be referred by SDGMs/CVOs of ZR/PU/Other Units through GM/MD to the PED/Vig for his approval. Cases of disagreement shall also be referred to PED/Vig for his final view in the matter. The above provision shall be noted for compliance please.
(Srinivas Malladi)
Director Vigilance Engg(I)
Railway Board
Copy to:- All EDs/Directors of Board Vigilance for information & necessary action.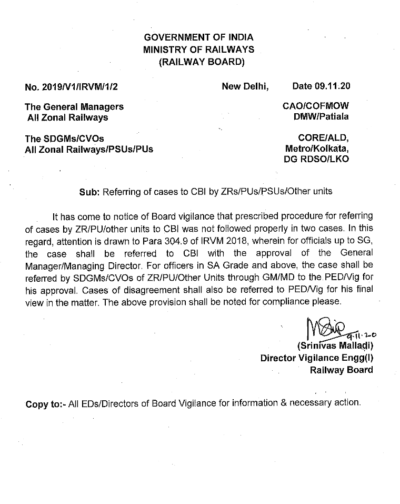 Click here to view/download PDF
[https://indianrailways.gov.in/railwayboard/uploads/directorate/vigilance/Circulars/2020/Referring%20of%20Cases%20to%20CBI.pdf]