Investigation of complaints pertaining to PSUs – Clarification on authority and jurisdiction of vigilance units of Zonal Railways/PUs
GOVERNMENT OF INDIA
MINISTRY OF RAILWAYS
(RAILWAY BOARD)
No. 2019/V1/IRVM/1/2
New Delhi, Date 20.11.20
The SDGMs/CVOs
All Zonal Railways/PSUs/PUs
Sub: Investigation of complaints pertaining to PSUs.
Board vigilance has been receiving queries in regard to the authority and jurisdiction of vigilance units of Zonal Railways/PUs to undertake investigation of complaints pertaining to works being executed by PSUs. It is clarified that since works in PSUs are being executed for Indian Railways, Railway vigilance has the authority to investigate the matter related. to complaints. In terms of Para 110.1 of IRVM 2018, vigilance officials are authorized to enter any of the premises of Indian Railways, including its PSUs, inspect any records and take possession of such documents, materials or stores as are necessary in connection with the investigation of case as, per procedure.
Considering the fact that there is a separate vigilance organization for each PSU, there appears no need for carrying out PCs/CTE type Ghecks/investigation of routine complaints. However, in cases where complaint is of serious nature and requires immediate investigations, zonal vigilance may undertake the investigation after taking the approval of PED/Vig & CVO, Ministry of Railways.
(Srinivas Malladi)
Director Vigilance Engg(I)
Railway Board
Copy to:- All EDs/Directors of Baard Vigilance for information & necessary action.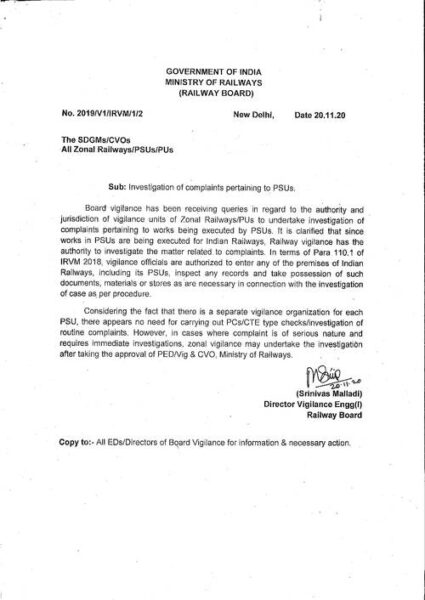 Click here to view/download PDF