Handling of complaints on e-mail according to Para 3.3 of CVC Manual 2021 on complaint handling policy: Railway Board Order No.2019/V-1/IRVM/1/27 dated 29.07.2022
GOVERNMENT OF INDIA
MINISTRY OF RAILWAYS
(RAILWAY BOARD)
No.2019/V-1/IRVM/1/27
New Delhi, Date: 29.07.22
The SDGMs/CVOs
All Zonal Railways/PSUs/PUs
Sub: Handling of complaints on e-mail.
Reference is invited to Para 514.10 of IRVM 2018 wherein it has been decided that complaints sent on any e-mail ID of officers of the vigilance department will not be entertained or taken cognizance of by the vigilance department. (Refer Para 3.3 of CVC Manual 2021 on complaint handling policy).
In this regard, it is clarified that if a signed complaint containing verifiable allegations, involving prima facie vigilance angle, is conveyed via enclosures of an e-mail, such complaint shall be sent for genuineness verification by post and handled like any other written complaint. On the other hand, if allegations are plainly exchanged in the main body of an e-mail without any signed enclosures, such complaints shall not be given cognizance and simply filed as per ibid Para 514.10 of IRVM 2018. This is issued with the approval of competent authority.
(Srinivas Malladi)
Director Vigilance Engg
Railway Board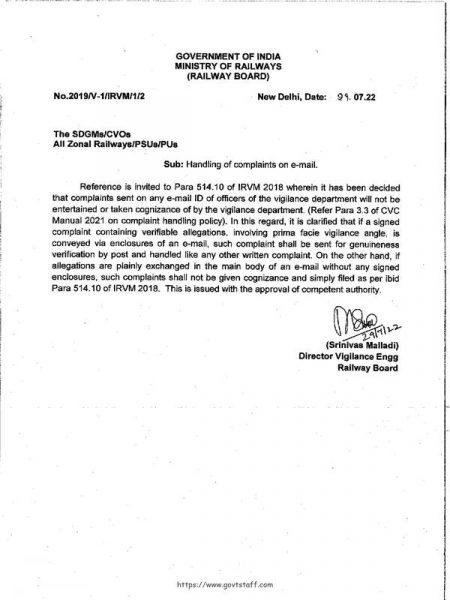 Source: Click to view/download PDF