Updation of Format 'A' of e-scroll and XML files – CPAO O.M dated 12.08.2022
GOVERNMENT OF INDIA
DEPARTMENT MINISTRY OF FINANCE
DEPARTMENT OF EXPENDITURE
TRIKOOT-II, BHIKAJI CAMA PLAGE,
NEW DELHI-110066
CPAO/IT&Tech/Gallantry award/2022-23/9226/138
12.08.2022
Office Memorandum
Subject: Updation of Format 'A' of e-scroll and XML files
Attention is invited to this office OM dated 03.08.2022 wherein all the Central Pension Processing Centres (CPPCs) were informed about the modifications carried out by the Central Pension Accounting Office (CPAO) in Format 'A' of e-scroll to capture data pertaining to payment and recovery of LTC to the pensioners/family pensioners of UT Chandigarh and payment and recovery of monetary allowances pertaining to Gallantry Award and Police Medals to the CAPF personnel.
2. It is further informed that necessary amendments have been made in XML files of eSSA. All the CPPCs are hereby directed to update their system for consumption of data from updated XML files by 01.09.2022. The path to download the XML files is
https://cpao.nic.in/wp-content/themes/innovation-extend/pdf/Banks/ePPO PFMSVersion11082022.pdf
This issues with the approval of Chief Controller (Pensions).
(Satish Kumar Garg)
Sr. Accounts Officer (IT & Tech)
To
Heads of CPPCs of all Authorised Banks
Heads of GBD of all Authorised Banks
Copy to
PS to CC(P)
Sr. TD, NIC, CPAO
PA to CA, CPAO
PA to Dy. CA, CPAO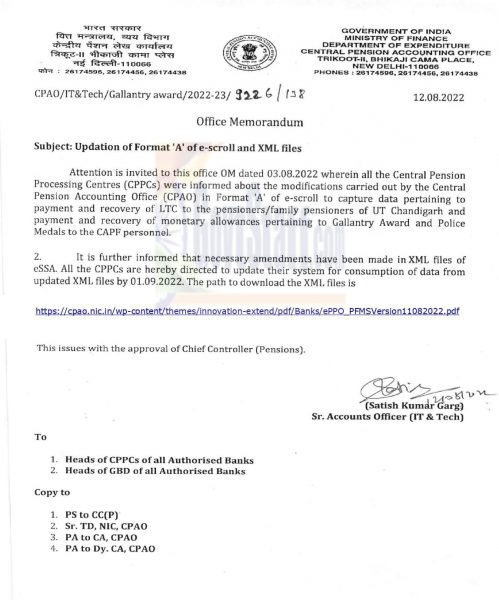 Source: Click to view/download PDF