MACP Scheme in respect of Group 'A' and 'B' Officers having initial Grade Pay of Rs.4600/-(Level-7) and above at par with Central Government Civilian Employees
KENDRIYA VIDYALAYA SANGATHAN (HQ)
18, Institutional Area, S.J.S. Marg, New Delhi-110016
F.No. 11030/2(1)/201 9/MACP/KVS(Estt-I)4679-4738
Date: 22.09.2022
Speed Post
The Deputy Commissioner/ Director
Kendriya Vidyalaya Sangathan
All Regional Offices/ ZIETs/ KVS (HQ)
Subject: Modified Assured Career Progression Scheme in respect of Group 'A' and 'B' Officers having initial Grade Pay of Rs.4600/-(Level-7) and above at par with Central Government Civilian Employees -Regarding.
Madam/Sir
Govt. of India, vide DOP&T O. M. No. 3503413/2008-Estt CD) dated 19th May 2009, introduced Modified Assured Career Progression Scheme for granting three financial upgradation at intervals of 10, 20 and 30 years of continuous regular service for civilian Central Govt. Employees. KVS, Office Memorandum No. F. 11020-16/2009-KVS (HQ) (Admn.I) dated 09.02.2011, 15.02.2011 and 25.02.2011, has extended the benefits of MACP to all i ts employees except the teaching staff The financial up-gradation under MACP in respect of all eligible Group 'A' & 'B' Officers (Section Officer and above) (except teaching staff) is to be considered at KVS (HQ)..
You are, therefore, requested to forward the fresh proposals in respect of eligible Group 'A ' & ' B' Officers (Non-teaching staff) (Section Officer & above) to whom MACP is due upto 31.03.2023 in the prescribed proforma (copy enclosed). The details may be duly verified. You are also requested to furnish the Vigilance Clearance Certificate in the latest proforma of eligible Group 'A ' & 'B' Officers along with the proposal.
The above information may be sent to this office on E-mail [email protected] (followed by hard copy) before 26th September, 2022 positively for further necessary action.
Encl.: As above
Yours faithfully,
(Anurag Bhatnagar)
Asstt. Commissioner ( Estt.I.)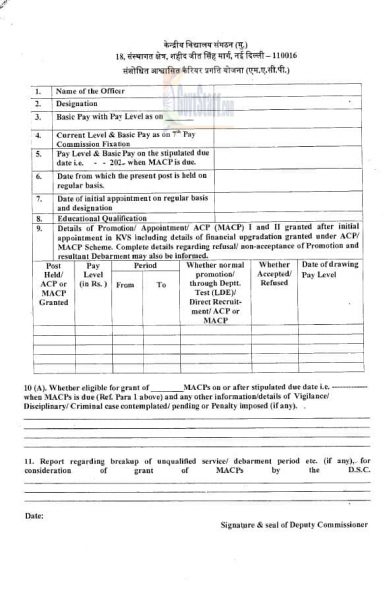 Source: Click to view/download PDF