All India Pension Adalat 2023 and Pre-retirement Counselling by DoP&PW: OM dated 09.05.2023
CGA's UO No. TA-3-602/1/2020-TA-III /CS-902/ 186
Ministry of Finance
Department of Expenditure
Office of Controller General of Accounts
Mahalekha Niyantrak Bhawan
E-Block, GPO Complex, INA,
New Delhi
Date 09.05.2023
Subject: All India Pension Adalat & Pre-retirement Counselling- reg.
Reference: DO. Letter No. 57/02/2023-P&PW (C) /E-8801 Dated 02.05.2023 addressed to Controller General of Accounts.
The undersigned is directed to forward herewith a copy of DO letter under reference received from Additional Secretary, Pension, M/o PPG&P, DoP&PW regarding above subject for necessary action at your end please.
2. All Pr. CCAs/CCAs/CAs (ICs) are requested to nominate the requisite number of candidates for attending the session of Pre-retirement counselling scheduled to be held on 17.05.2023 in Plenary Hall, Vigyan Bhawan, New Delhi under the auspice of Hon'ble MoS(P).
3. A copy of the said nomination for the scheduled session may also be sent to the office for information.
Encl: As above a
(Arpit R. Parakh)
Assistant Controller of Accounts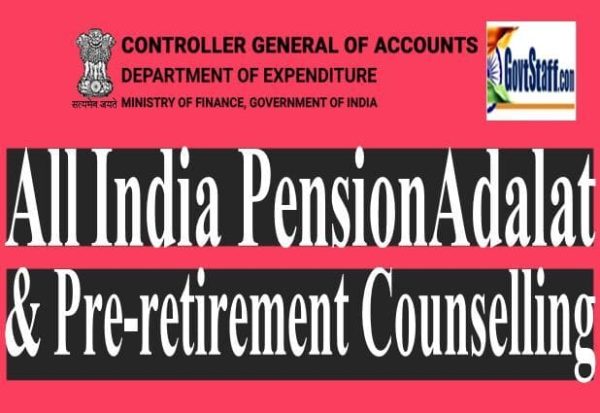 GOVERNMENT OF INDIA
MINISTRY OF PERSONNEL PUBLIC GRIEVANCES & PENSIONS
DEPARTMENT OF PENSION & PENSIONERS' WELFARE
LOK NAYAK BHAWAN, KHAN MARKET,
NEW DELHI-110003
Sanjiv Narain Mathur
Additional Secretary to the Government of India
D.O. No. 57/02/2023-P&PW (C)/E-8801
Dated: 2nd May, 2023
Respected Sir,
The Department of Pension & Pensioners' Welfare has been conducting Pre- Retirement Counselling, throughout the country, as part of Good Governance, to facilitate officials who are about to retire in this superannuation process. The next such Pre-Retirement Counselling is scheduled to be held on 17/05/2023 at 09:30 A.M. in Plenary Hall, Vigyan Bhawan, Maulana Azad Road, New Delhi-110011 under the auspice of Hon'ble Dr. Jitendra Singh, MOS (P).
2. In order to facilitate the smooth transition for the retiring employees, various sessions on BHAVISHYA portal, retirement benefits, CGHS, Income tax, ANUBHAV, Digital Life certificate etc will be conducted. In order to make aware the personnel working on-Pension Module of PFMS in all the Ministries/Departments about the Pension Rules and the Bhavishya system, the list of 100 employees of your organization may please be expedited by 5th May 2023 so that the delegate card can be issued. A copy of Minute to Minute programme is also enclosed.
4 It is also my privilege to invite you to grace the occasion.
Yours sincerely,
(Sanjiv Narain Mathur)
Shri Shyam Sunder Dubey
Controller General of Accounts
Mahalekha Niyantrak Bhavan, GPO complex, INA Colony
New Delhi-110023,