Notional Increment due on 1st July for the pensionary benefits to those employees who retired on 30th of June before – Clarification by Railway Board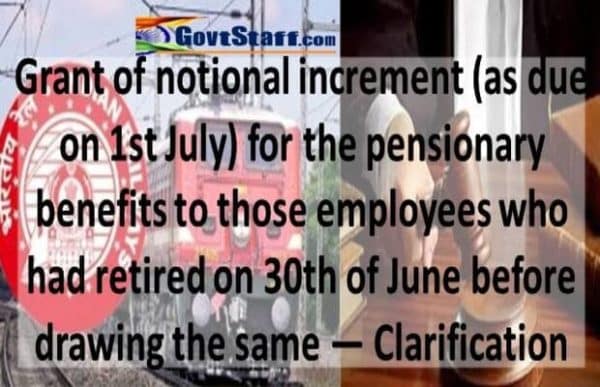 MOST IMMEDIATE
COURT CASE MATTER
GOVERNMENT OF INDIA
MINISTRY OF RAILWAYS
(RAILWAY BOARD)
No. PC-VI/2020/CC/13
New Delhi, dated: 20.06.2023
The General Manager (P),
All Indian Railways
& Production Units
(Attn.: All PCPQOs)
Sub: Grant of notional increment (as due on 1st July) for the pensionary benefits to those employees who had retired on 30th of June before drawing the same — Clarification reg.
Ref: Board's letter of even number dated 13.04.2021.
Attention is invited to Board's letter under reference whereby a copy of Hon'ble Supreme Court's order dated 05.04.2021 pronounced in SLP (C) No. 4722/2021 (Union of India & Ors Vs M. Siddaraj) whereby interim stay was granted on implementation of Hon'ble CAT/ Bangalore Bench's order grating benefit of notional increment was circulated to all Zonal Railways/ PUs.
2. The aforesaid SLP has recently been dismissed by Hon'ble Supreme Court vide their order dated 19.05.2023 (copy enclosed) inter-alia disposing all similar pending applications and directing the Union of India to grant the benefit of notional increment to all the original applicants & intervenors.
3. Considering the repercussions & far reaching implications of Hon'ble Supreme Court above judgement whereby the law involved on this issue has been interpreted on merit; this Ministry has already referred the matter to DOP&T (being the nodal department on the issue) vide Board's O.M. dated 21.04.2023 (copy enclosed) seeking further course of action to be adopted in contesting the cases on notional increment and further remedial measures/ legal provisions, if any available, to safeguard the interests of Union of India. This Ministry is persistently following up the matter with DOP&T; however, the solicited response on the policy aspects of grant of benefit of notional increment is still awaited.
4. Necessary clarification/ guidelines will subsequently be issued to all Zonal Railways/ PUs on receipt of the same from DOP&T. Meanwhile, it is advised that a Miscellaneous Application may be filed before the concerned Tribunal/ Court in consultation with the contesting counsel seeking further time for compliance of orders/ filing of reply, as the case may be.
5. This issues with the approval of the competent authority.
DA: As above
(Jaya Kumar G)
Dy. Director, Pay Commission — VII & HRMS
Railway Board