Medical facility to COVID-19 patients of parents/blood relatives of railways employees: Railway Board
Government of India (भारत सरकार)
Ministry of Railways (रेल मंत्रालय)
3rd Floor, Railway Board (तृतीय तल, रेलवे बोर्ड)
Supreme Court Metro Station Building Complex
(सुप्रीम कोर्ट मेट्रो स्टेशन परिसर)
No.2020/11-1/7/18
New Delhi,
Dated 04-08-2020
The General Manager East Central Railway Hajipur.
Sub: Medical facility to COVID-19 patients of parents/blood relatives of railways employees.
Ref: GM/ECR's D.O.No.ECR/ADM/SEC/MED/2020 dated 24.07.2020.
Vide reference above D.O.letter dated 24.07.2020 regarding medical facility to COVID-19 parents/blood relatives of railways employees. In this context, Railway Board Finance Directorate opinion is as under:
However, going through the provisions of Model SOP issued in October, 2017, it is seen that the same provides delegation regarding " Waiver of hospital charges in respect of non-railway patients" and "Admission of non-Railway patients in Railway Hospitals" Full powers in regard to the provisions stands delegated to PHOD and CMD respectively of zonal railways. The powers are however, to be exercised in respect of deserving indigent non railway cases admitted in railway hospitals in emergent circumstances only".
2. All Government employees, including CGHS beneficiaries who are covered by reimbursement rules to be charged as per CGHS rates as applicable for COVID treatment including diet.
(Dr.Vijay kumar)
Pr.Executive Director/Health
Railway Board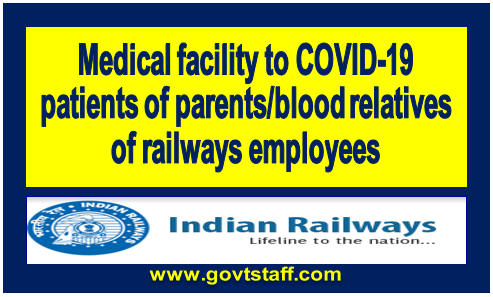 Source: Click here to view/download the PDF