Reimbursement of Medicines – Special Sanctions – ECHS advice to beneficiaries dated 11.08.2020
Central Organisation, ECHS
Adjutant General's Branch
Integrated Headquarters
Ministry of Defence (Army)
Thimayya Marg, Near Gopinath
Circle, Delhi Cantt-110010
B/49761/AG/ECHS
11 Aug 2020
______________
(All Regional Centres)
REIMBURSEMENT OF MEDICINES : SPECIAL SANCTION IN VIEW OF COVID-19
1. Refer to this HQ letter No B/49761/AG/ECHS dated 07 Aug 2020.
2. The date of upto 30 Sep 2020 indicates that the beneficiary may purchase medicines under this provision on any day before or on 30 Sep 2020, as per the due date of his prescription. The medicines may be purchased as per prescription for a period of 30 days.
3. This will also ensure that, the due date of medicine for beneficiaries in Oct 2020 will also get staggered and result in minimum footfall and social distancing.
4. All ECHS beneficiaries may be advised accordingly.
(Anupam N Adhaulia)
Col
Dir (Med)
for MD ECHS
Copy to :-
MoD (DoESW)                                  :
CGDA                                                  :
O/o DGAFMS                                    :
AG Branch                                          :
DG DC&W Sectt                                :  for info pl.
DGMS (Army)                                   :
DGMS (Navy)                                    :
DGMS (Air)                                        :
DGDS                                                  :
All Comd HQ (A/ECHS                   :
UTI-ITSL                                            :
Internal
All Sec – for info
S&A Sec – for uploading on website and issue necessary instr to UTI-ITSL (BPA).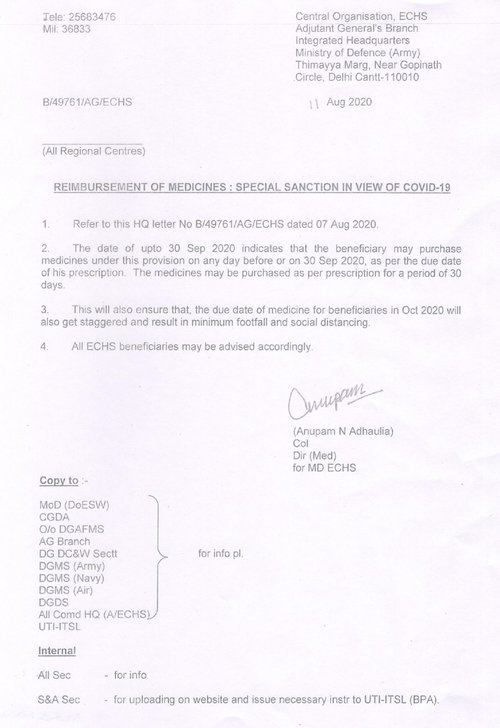 Source: Click here to view/download the PDF