Mission Karmayogi: Institutional Framework for Implementation and Monitoring of the programme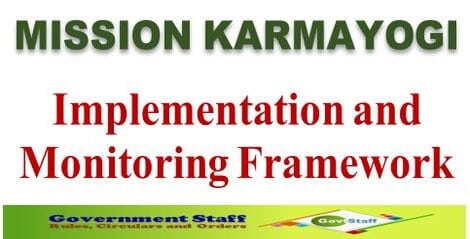 Ministry of Personnel, Public Grievances & Pensions
MISSION KARMAYOGI
The National Programme for Civil Services Capacity Building ("NPCSCB') — "Mission Karmayog1" has been launched with the objective of enhancing governance through Civil Service Capacity Building. Mission Karmayogi will have the following six pillars:-
(i) Policy Framework,
(ii) Institutional Framework,
(iiii) Competency Framework,
(iv) Digital Learning Framework (Integrated Government Online Training Karmayogi Platform (iGOT-Karmayog1),
(v) electronic Human Resource Management System (e-HRMS), and
(v1) Monitoring and Evaluation Framework.
For implementation and monitoring of the programme, following institutional framework has been approved:
(i) Prime Minister's Public Human Resource Council (PMHRC): A Council under the chairmanship of Hon'ble Prime Minister is conceived to be the apex body for driving and providing strategic direction to civil service reforms and capacity building.
(ii) Cabinet Secretariat Coordination Unit: It will monitor the implementation of NPCSCEB, align stakeholders and provide mechanism for overseeing capacity building plans.
(iii) Capacity Building Commission— It will be set up for functional supervision of training institutions and facilitate in preparation of annual capacity building plans.
(iv) Special Purpose Vehicle (SPV, an autonomous company) under Section 8 of the Companies Act, 2013 — It will own and operate all the digital assets created for NPCSCB on behalf of the Government of India.
(v) Programme Management Unit (PMU) – It will provide Program Management and Support services to the Department.
The training of Civil Servants at various Academies will be restructured to include optimum use of the digital learning platform of iGOT.
This information was given by the Union Minister of State (Independent Charge), Development of North Eastern Region (DoNER), MoS PMO, Personnel, Public Grievances, Pensions, Atomic Energy and Space, Dr Jitendra Singh in a written reply in Rayya Sabha today.
<><><><><>
Click here to view/download PDF