Recruitment in CBIC under Sports Quota in Grade Pay 4600 and grant of Special Casual Leave to the appointed meritorious sportspersons
No.A-12034/1/2020-Ad.IIIB
Government of India
Central Board of Indirect Taxes & Customs
****
New Delhi-110066, Dated August' 28th 2020
OFFICE MEMORANDUM
Subject: Recruitment of Inspector/Examiner under Sports Quota in CBIC under Pay Band (pre revised) 9300-34800, Grade Pay 4600 and grant of Special Casual Leave to the appointed meritorious Sportspersons-Reg.
The undersigned is directed to refer to above captioned subject and to say that Nodal Ministry DoP&T's O.M. F.No.14034/01/2013-Estt (D) dated October 3rd, 2013 consolidates the instructions on appointments & incentives for sportsperson inter alia para A(ii) a&b cléarly stipulates that [irp] "appointment of meritorious Sportsperson can be made to any post in Group 'C' or erstwhile Group 'D', which under the Recruitment Rules applicable thereto, is required to be filled by direct recruitment, otherwise than through the Union Public Service commission and No such appointment shall be made to any post in Group 'A' or Group 'B', by direct". The OM further restricted the period of special casual leaves to 30 days in a year.
2. Further, the references received from some of the Cadre Controlling Authorities under CBIC, have been examined in accordance with Recruitment Rules for the post of Inspector (Central Excise, PO. Examiner) CBIC notified by this Department vide GSR 1172 (E) dated 26.12.2016 which have also been framed in consultation with the nodal ministry i.e. DoP&T and UPSC and strictly in consonance with the DoPT's advisory as laid down under Nodal Ministry DoP&T's guidelines/instructions dated 31.12.2010 on the issue of revision of guidelines/amendments/relaxation of Recruitment Rules. [irp] As per these guidelines central civil post Carrying the grade pays Rs. 5400, Rs. 4800, Rs. 4600 and Rs. 4200 in the scale of Pay of Rs.9300-34800 in Pay Band-2 are classified as Group "B" posts. Accordingly the post of Inspector (C.Ex., PO, Examiner) of CBIC having Pay Level-7(erstwhile 4600 Grade Pay) are identified Group 'B' Posts as per the said RRs. DoPT's S.O. Order 946 (E), dated gt April, 2009 clarifies the classifications of posts.
3. Hence, in the wake of the extant instructions/ rule position, necessary action for sports quota recruitment should be taken Strictly in consonance with DoP&T and this Department's extant instructions/rules.
Yours faithfully
(RK Jha)
Deputy Secretary to the Government of India
Ph. 26162693
To,
All the Cadre Controlling Authorities under CBIC
The Principal Chief Commissioner of Customs, Mumbai-I, 2nd Floor, New Customs House, Ballard Estate, Mumbai-400001 w.r.t. its' letter No. F.No.S/43/-309/2019-20 Sports Dated Nil.12.2019.
The Principal Chief Commissioner, CGST, Thiruvanantapuram, Central Revenue Building, IS Press Road, Kochi-682018 w.r.t. its' letter C. No. 11/31/2/2019/cc(TZ) I/275/ dated 17.01.2020.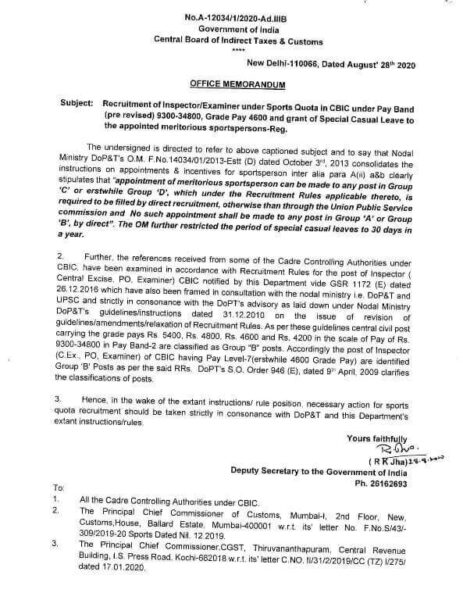 Source: CBIC

[https://www.cbic.gov.in/resources//htdocs-cbec/deptt_offcr/circ-deptl/Recruitment-Sport-Quota.pdf]