Special Concessions/Incentrives to Central Government employees working in Kashmir Valley in attached/subordinate offices or PSUs falling under the control of Central Government
No.18016/3/2018 -Estt.(L)
Government of India
Ministry of Personnel, Public Grievances & Pensions
(Department of Personnel & Training)
***
New Delhi, the 14tOctober, 2020
OFFICE MEMORANDUM
Subject: Special concessions to Central Government employees working in Kashmir Valley in attached/subordinate offices or PSUs falling under the control of Central Government.
*****
The undersigned is directed to refer to this Department's O.M. of even number dated O8thJanuary, 20190n the subject mentioned above and to state that it has been decided by the competent authority to extend the package of concessions/incentives to Central Government employees working in Kashmir Valley for a further period from 01.01.2020 to 31.07.2021. The package for the period from 01.01.2020 to 31.07.2021 is as per Annexure.
2. The package of incentives is uniformly applicable to all Ministries/ Departments and PSUs under the Government of India and they should ensure strict adherence to the rates prescribed in the package. The concerned Ministry/Department may ensure implementation and monitoring of the package in conformity with the approved package, and therefore, all court cases in which verdicts are given contrary to the package would have to be contested by the Ministries/Departments concerned.
(Rajendra Prasad Tewari)
Under Secretary to the Government of India
011-26164316
Encl. As above.
To
All Ministries/Departments of the Govt.of India. (as per mailing list)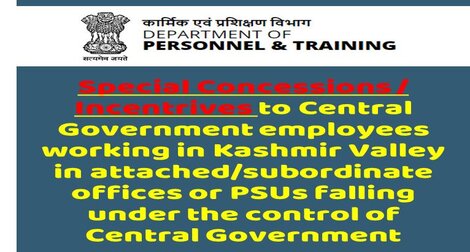 ANNEXURE
ANNEXURE to DOPT's O.M. No.18016/3/2018-Estt.(L) dated the 14th October, 2020.
DETAILS OF PACKAGE OF CONCESSIONS/INCENTIVES TO CENTRAL GOVERNMENT EMPLOYEES WORKING IN KASHMIR VALLEY IN ATTACHED/SUBORDINATE OFFICES OR PSUs FALLING UNDER THE CONTROL OF CENTRAL GOVERNMENT.
[Kashmir Valley comprises of ten districts namely Anantnag, Baramulla, Budgam, Kupwara, Pulwama, Srinagar, Kulgam, Shopian, Ganderbal and Bandipora]
a) Extension of Special concessions/incentives for a further period from 01.01.2020 to 31.07.2021 to Central Government employees working in the 10 districts of Kashmir Valley.
I. ADDITIONAL HOUSE RENT ALLOWANCE AND OTHER CONCESSIONS:
(A) EMPLOYEES POSTED IN KASHMIR VALLEY:
(i) The employees shall have an option to move their families to a selected place of their choice in India at Government expenses and the transport allowance for the families are proposed to be allowed as admissible in permanent transfer inclusive of the Composite Transfer Grant at the rate of 80 per cent of the last month's basic pay;
(ii) Departmental arrangements for stay, security and transportation to the place of work for employees;
(iii) Additional house rent allowance at the rate of Class 'Y' city (16 per centof basic pay) for employees who leave their family at their last place of posting, except officials who have retained Government accommodation to accommodate their families and these employees shall be eligible for drawing the normal house rent allowance as well as at their place of posting if the Departmental arrangement is not made for his stay;
(B) EMPLOYEES POSTED TO KASHMIR VALLEY WHO DO NOT WISH TO MOVE THEIR FAMILIES TO A SELECTED PLACE OF RESIDENCE.
The per diem allowance of Rs. 113/- per day is paid for each day of attendance to compensate for any additional expense in transportation from to and from office etc. in terms of the Department of Expenditure OM No. 19030/11/2017-E.IV, dated 13.07.2017.
(C) THE PERIOD OF TEMPORARY DUTY EXTENDED TO SIX MONTHS.
For period of temporary duty, an incentive known as the Kashmir Valley Special Incentive will be paid at the following rates along with food charges (as per 7th Pay Commission norms), apart from departmental arrangements for stay, security and transportation:
Pay Range
Rate Per month
(on pro rata)
(i) Level 14 and above

 Rs.9000

(ii) Level 12 and 13

Rs.8000

(iii) Level 9 to 11

Rs.7000

(v) Level 5 and below

Rs.4500
II. MESSING FACILITIES:
Messing allowance is paid @ Rs.97.85/- per day.
III. PAYMENT OF MONTHLY PENSION:
The pensioners of Kashmir Valley who are unable to draw their monthly pensions through either Public Sector Banks or Pay and Accounts Office treasuries from which they were receiving their pensions, are given pensions outside the Valley, where they have settled, in relaxation of relevant provisions.
NOTE :-
i. The package of concessions / incentives shall be admissible in Kashmir Valley comprising of ten Districts namely, Anantnag, Baramulla, Bud gam, Kupwara, Pulwama, Srinagar, Kulgam, Shopian, Ganderbal and Bandipora.
ii. The Package of concessions / incentives shall be admissible to Temporary Status Casual Laborers working in Kashmir Valley in terms of Para (i) of the Casual Laborers (Grant of Temporary Status and Regularization) Scheme of Government of India, 1993.
iii. The benefit of additional house rent allowance admissible under the Kashmir Valley package shall be admissible to all Central Government employees posted in Kashmir Valley irrespective of whether they are natives of Kashmir Valley, if they choose to move their families anywhere in India subject to the conditions governing the grant of these allowances.
iv. The facilities of Messing Allowance and Per Diem Allowances shall also be allowed to natives of Kashmir Valley in terms of the Kashmir Valley package.
*******
Source: DOPT