Review the decision and stop the process of closure of Railway Printing Presses – Confederation

CONFEDERATION OF CENTRAL GOVT EMPLOYEES & WORKERS
1st Floor, North Avenue PO Building, New Delhi – 110001
Website: www.confederationhq.blogspot.com
Email: [email protected]

President
RAVI NAIR
9969234999
Secretary General
R.N. PARASHAR
9718686800
No. PF-Misc/2021
Dated: 22nd December-22020
To
Hon'ble Shri Pryush Goyal.
Minister of Railway,
Government of India,
New Delhi-110001
Sub: Closure of Railway Printing Presses – Reg
Respected Sir,
We have come to know that Railway Ministry is going to close Five Railway Printing Presses. This move of Government is neither in favour of Staff of Railway nor to the Department. Thousands of employees working there will become jobless and expenditure of Stationery and other important documents to be published from Private Press will increase.
We as Confederation of Central Government Employees and Workers strongly protest the move of closure of Railway Printing Presses and request your honour to kindly review the decision and stop the process of closure of Railway Printing Presses.
Hoping for a positive action.
With regards.
Yours Sincerely,
(R.N.PARASHAR)
Secretary General
Contederation of CGE&W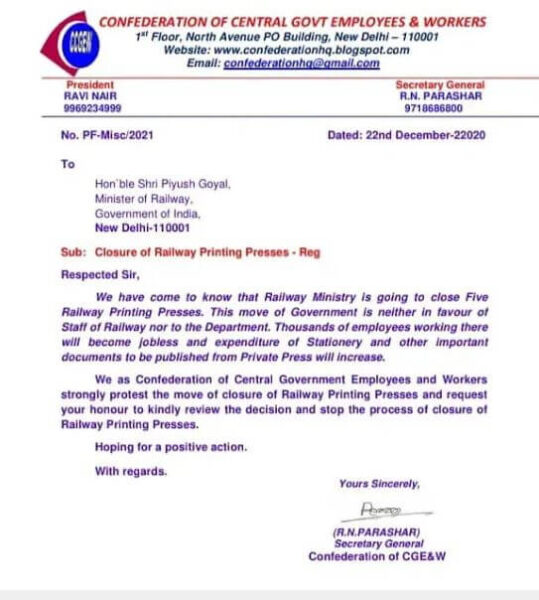 Source: Confederationhq