SB Order No. 02/2021: Enhancement of limit of withdrawals at GDS Branch Post Offices without obtaining sanction/approval from Account Office
SB Order No. 02/2021
e.F.No.FS-13/1/2020-FS
Government of India
Ministry of Communications
Department of Posts
(FS Division)
Dak Bhawan, Sansad Marg,
New Delhi-110001
Date: 26.02.2021
To,
All Head of Circles/Regions
Subject: – Regarding enhancement of limit of withdrawals at GDS Branch Post Offices without obtaining sanction/approval from Account Office.
Sir / Madam,
The undersigned is directed to say that the issue of enhancement of the present limit of withdrawal without sanction of Account Office by GDS Branch Post Office was under consideration in this Directorate from some time. This limit was last enhanced from Rs. 2000/- to Rs. 5000/- vide this office letter No. 113-01/2001-SB dated 14.12.2009 (SB Order No. 19/2009).
The issue was examined in the context of the huge amounts of withdrawals happening at the Branch Post office level under the Aadhaar enabled Payment System (AePS). Government of India and most of the States Direct Benefit Transfers (DBT) have increased many fold. The amounts being granted/paid under various social security benefits is also enhanced – Pensions, grants to Farmers under schemes like Rythu Bandhu, Pandemic relief, Tea Estate Workers grants, and other relief payments, etc. Some beneficiaries accumulate and withdraw amounts in lump sum. Various representations and proposals were received from Circles. Further, there has been many fold devaluation of rupee.
In the above context, the competent authority has decided to enhance the present limit of withdrawal per individual at GDS Branch Post Offices from Rs. 5,000/- to Rs. 20,000/- without obtaining sanction/approval from the respective Account Office with immediate effect.
It is requested that these changes may be brought to the notice of all post offices immediately for information, guidance and necessary action.
This issues with the approval of competent authority.
Yours faithfully,
Sd/-
( Devendra Sharma )
Assistant Director (SB-II)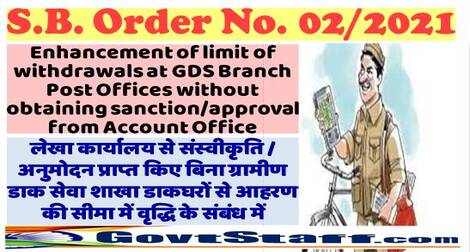 Source: Click here to view/download PDF