Empanelment of SMT. S.M.S MULTISPECIALITY HOSPITAL under CGHS Ahmedabad
GOVERNMENT OF INDIA
OFFICE OF THE ADDITIONAL DIRECTOR
CENTRAL GOVERNMENT HEALTH SCHEME
2nd floor, S.R.House, Opp.Mount Carmel School
Ashram Road, Ahmedabad.380009 *GUJARAT* INDIA
No. CGHS/AHMD/EMP.HOSPITAL/ 93
Dated: 03/09/2021
OFFICE ORDER
Sub: – Empanelment of Private Health Care Organisation under CGHS, Ahmedabad as per Ministry of Health & Family Welfare New Delhi Letter no.S.11011/03/2018 CGHS (HEC) dated 26/12/2017
With reference to the Ministry's Office Memorandum no. S.11011/03/2018-CGHS (HEC) dated 26/12/2017; the following Health Care Organisations (HCOs) are empanelled under CGHS, Ahmedabad with effect from 03/09/2021 in addition to the existing HCOs empanelled under CGHS, Ahmedabad. The newly empanelled Hospitals may be treated as included in the existing list of empanelled health Care Organizations under CGHS Ahmedabad as per the terms and conditions of empanelment and MOA signed between CGHS and HCOs. The empanelment is valid for 2 years or till the new empanelment of HCOs, whichever is earlier.
S. No.
Name of HCOs
Address & Telephone No.
NABH/ Non NABH / NABL / Non-NABL
Nodal office Name, Mobile No., e-mail id
Facilities empanelled for
1
SMT.S.M.S MULTISPECIALITY HOSPITAL
NEAR TAPOVAN CIRCLE, VISAT- GANDHINAGAR HIGHWAY CHANDKHEDA,
AHMEDABAD-382424
NON-NABH
Dr. Chaitri Tejas Shah Ph-7573949404
e-mail- additionalms3011
@mkshahmcrc.org
Multispecialty
(Dr R.J. JHALA)
Additional Director
CGHS: Ahmedabad
To,
SMT. S.M.S MULTISPECIALITY HOSPITAL, Ahmedabad.
Copy to:
All Central Govt. Offices, Ahmedabad, Gandhinagar & Vadodara
Pay and Accounts Office, Mumbai
Accounts section, CGHS, Ahmedabad
Pensioners Association/P&T Pensioners Association
National Health Authority
CMO Incharge, CGHS Ahmedabad WC No. 1, 2, 3, 4, 5, 7, 8, 9, 10 & CGHS Vadodara W.C No. 1
The Director CGHS, DGCGHS Nirman Bhavan, New Delhi 110011.
Dr. V. K Dhiman, Nodal Officer, MCTC, CGHS Wellness Centre Building Kalibari, New Delhi-110001
Notice Board
(Dr R.J. JHALA)
Additional Director
CGHS: Ahmedabad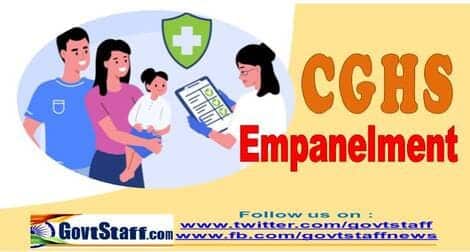 Source: Click here to view/download PDF