Compassionate engagement cases of dependents of deceased GDSs who had committed frauds/ wrongdoing while in engagement
No.17-01/2017-GDS (Vol-I)
Government of India
Ministry of Communications
Department of Posts
(GDS Section)
Dak Bhawan, Sansad Marg,
New Delhi-110 001
Dated: 12.11.2021
To
The Chief Postmaster General
Haryana Circle
Ambala- 133 001.
Subject: – Compassionate engagement cases of dependents of deceased GDSs who had committed frauds/ wrongdoing while in engagement.
Sir/Madam,
Kindly refer to your DO letter no. R&E/24-30/2020/GDS dated 05.08.2021 wherein clarification has been sought on whether to consider compassionate engagement cases of dependents of deceased Gramin Dak sevaks (GDSs) who had committed frauds/wrongdoing while in engagement.
2. The matter has been examined. The Competent Authority has approved the following: –
"If the investigation/ proceedings are not completed at the time of death of GDS, he/she may be eligible on the principle of innocent till proved guilty. The dependent family members of a GDS should be considered eligible for Compassionate Engagement if as on the date of death, the deceased GDS comes under the definition of the Gramin Dak Sevak".
3. The other terms and conditions of guidelines issued vide Directorate letter No. 17-1/2017-GDS dated 30.05.2017 will remain unchanged.
4. Therefore, you are requested to take action accordingly for settlement such pending compassionate engagement cases.
Yours sincerely
(D. K. Tripathi)
Assistant Director General (GDS/PCC)
Tel. No. 011-23096629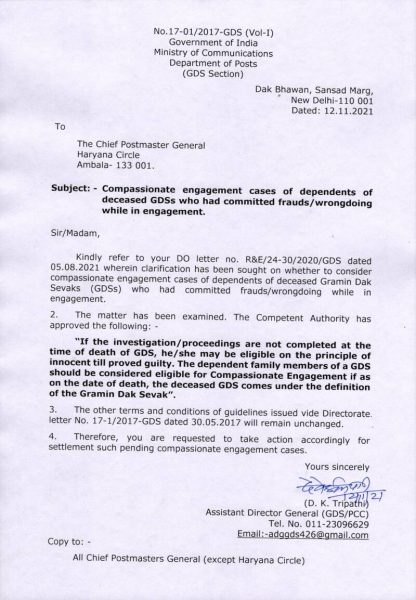 Source : Click here to view/download the PDF
[https://utilities.cept.gov.in//dop/pdfbind.ashx?id=6091]