Hand Book Defence Pension for Commissioned Officers  (ICOs)
HAND BOOK
DEFENCE PENSION
FOR
COMMISSIONED OFFICERS
(ICOs)
Pension in respect of Armed Forces Personnel is in fact a very complex subject in itself as the orders issued thereon are scattered. Nothing is available on which one can lay his hands for a compact knowledge. This has given me an idea to put all the relevant orders issued on a particular subject at one place in the form of a Handbook.
With this fact in view, I review the Govt. letters issued upto 12/2020 and summarize them precisely on each subject and tried to put them in the Handbook separately for PBORs and ICOs.
For this I got blessings of benevolent Principal Controller Mr. Rajiv Ranjan. I express my heartfelt gratitude to him.
Further, I would also like to convey my sincere thanks to Officer In Charge Grants Tech. Mr. A. K. Malviya and cooperation of his staff at each stage as the same have helped me a lot.
At last, I request esteem readers to ignore the shortcomings, if any, considering the same as my incompetency.
HAND BOOK ON DEFENCE PENSION FOR ICOs
PENSIONARY AWARDS IN RESPECT OF COMMISSIONED OFFICER
INDEX
SL. NO.
SUBJECT
PARA
1
Qualifying service for earning Retiring Pension
1
2
Periods of service qualifying for pension
4
3
Determination of amount of pension
6
4
Retirement Gratuity
7
5
Commutation of Pension
8
6
Restoration of commuted portion of pension
10
7
Disability pension
11
8
Categorisation of disability
12
9
Procedure for adjudication of Disability Pension claim
i.  Injury cases
ii. Disease cases
13
8
Disability pension on invalidment
14
9
Disability element on retirement
15
10
Rates of Disability Element
16
11
Constant Attendance Allowance
17
12
Lump sum compensation in lieu of Disability Element
19
13
Invalid Pension
23
14
War Injury Pension on invalidment
27
15
War injury Pension on retention in service
28
16
Lump sum compensation in lieu of war injury pension in service
29
17
War injury element on subsequent retirement
34
18
Liberalized disability pension
35
19
Ex-gratia awards to cadets (direct) in case of disablement
38
20
Appeal
39
21
Ordinary Family Pension
40
22
Eligible members of family for Ordinary Family Pension
41
23
Ordinary Family Pension in case of missing personnel/pensioners
42
24
Rates of Ordinary Family Pension
(i)  Normal Rate
(ii) Enhanced Rate
43
25
Special Family Pension
45
26
Eligible members for Special Family Pension
46
27
Special Family Pension on re-marriage widow
48
28
Dependent pension to Parents and Brothers/Sisters
49
29
Liberalized Family Pension
52
30
Dependent Pension (Liberalized)
55
31
Ex-gratia lump sum compensation who die in harness
56
33
Death Gratuity
57
34
Monetary allowances attached to Gallantry Awards
58
35
Pensionary awards in respect of Non-regulars Commissioned Officers (SSC/TC/EC/SSRC)
61
36
Counting of Past service
68
37
Condonation of break in service
72
38
Pro-rata pension
73
39
Appendices – Rates of
(i) Retiring Pension
1
(ii) Retirement Gratuity
2
(iii) Disability Element
3
(iv) Ordinary family pension-prior to 01.06.53 and after 01.06.53
4
(v) Special Family Pension-Prior to 01.06.53 and after 01.06.53
5
(vi) Monetary allowances attached to gallantry decorations
6
(vii) Evaluation of Pensionary structure prior to 01.06.53 and thereafter and also important changes due to successive CPC recommendations
7
(viii) List of Govt. letters referred to in the Hand Book with Group Order No. under which reproduced
8
PENSIONARY AWARDS IN RESPECT OF COMMISSIONED OFFICERS
QUALIFYING SERVICE FOR EARNING RETIRING PENSION
l. (a) The minimum period of qualifying service for earning retiring pension shall be 20 years (15 years in the case of late entrants).
(b) Serving JCOs/ORs granted EC/SSC will be eligible for retiring pension after 12 years of qualifying service actually rendered.
2. The term qualifying service shall mean actual qualifying service rendered. This was subject to total qualifying service not exceeding 33 years. The provision of weightage has been withdrawn w.e.f. 02.09.2008.
3. A fraction of year equal to 3 months and above but less than 6 months shall be treated as a completed 2 year. Similarly, nine months or more but less than one year shall be treated as a completed one year and reckoned as qualifying service. This shall, however, not be applicable for computing minimum qualifying service for pensionary award.
[Authority:- Gol MoD NOs 1(5)/87/D(Pen/Sers) dt. 30.10.1987, 03.02.1998 and 17(4)/2008(2)/D(Pen/Pol) dt. 12.11.2008 and 30.10.2009)]
4. PERIODS OF SERVICE QUALIFYING FOR PENSION
Service as permanent regular Commissioned Officer.
Embodied or called out service as an officer of TA or Auxiliary Air Force subject to refund of gratuity, if any.
Service in the rank followed by permanent regular Commissioned service without a break subject to refund of gratuity, if any.
All leave including study leave with pay.
Period of suspension from duty when the officer is not brought on trial or court martial with result favorable to the officer.
Service rendered in an Office/Department/Ministry of the Central or State Government.
Any period of civil service under Central or State Government if followed by military service subject to refund of gratuity, if any.
Service rendered in the autonomous bodies.
The period of ante-date of commission and the period of Secondment subject to the following maxima-(a) Ante-date of commission-18 months. (b) Secondment-12 months (c) when both ante-date and Secondment granted-24 months.
Service rendered in aid of civil administration.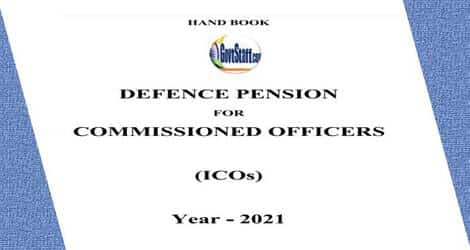 [https://pcdapension.nic.in/pcda/misc/handbook_COs.pdf]