Resumption of Biometric attendance- regarding attendance – PCDA WC order dated 04.07.2022
THROUGH WEBSITE OF PCDA WC
CIRCULAR
रक्षा लेखा प्रधान नियंत्रक (प.क.) चंडीगढ़-160009
PRINCIPAL CONTROLLER OF DEFENCE ACCOUNTS
(WESTERN COMMAND), SECTOR-9, CHANDIGARH-160009
Tel.No. :0172-2741611 E-mail: [email protected]
No. AN/I/1041/MISC/BAS
DATED 04/07/2022
To
All Officers-in-Charge in Main Office.
All Sub Offices under PCDA WC.
Sub: – Resumption of Biometric attendance- regarding attendance- regarding.
Ref:- HOrs. Office, Delhi Cantt Circular No. F.No. Estt.Coord/3012/Circular/Vol-VIII/Covid dated 03/02/2022.
As per direction of HQrs office, Biometric attendance for all level of employees is to be resumed with immediate effect.
All officer-in-charge of various sections in main office and sub offices are accordingly requested to take action to resume Biometric attendance at all level of employees with immediate effect.
This may please be noted for strict compliance.
HARD COPY OF THIS CIRCULAR MAY NOT BE AWAITED. AWAITED.
PCDA has seen.
ACDA[AN]
COPY TO :-
OI/C IT&S [LOCAL] – for making necessary arrangements for implementation of Aadhar Based Biometric Attendance System in Main Office and various sub-offices immediately and uploading of this circular on website of PCDA WC.
OI/C O&M CELL [LOCAL] — for information and necessary action w.r.t. above.
Sd/-
[JEETENDER JOSHI]
SAO [AN]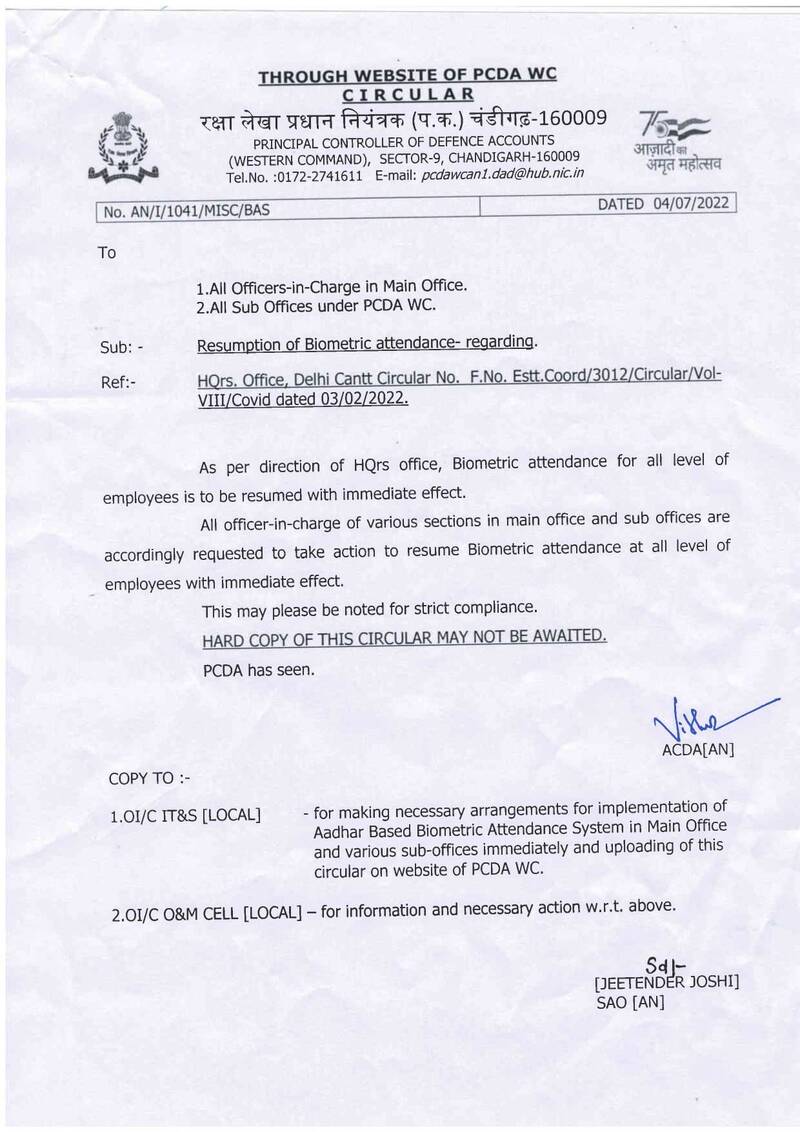 https://pcdawc.gov.in/images/pdf/circulars/admin/gen/7735_BAS.pdf