Empowering APY Subscribers with ease of Aadhaar Seeding – Launch of Seeding Convenience through CRA Portal & Mobile App : PFRDA Circular
PENSION FUND REGULATORY AND DEVELOPMENT AUTHORITY
CIRCULAR
Circular no: PFRDA/2023/02/SUP-CRA/02
Jan 10, 2023
To
All stakeholders under APY
Subject: Empowering APY Subscribers with ease of Aadhaar Seeding – Launch of Seeding Convenience through CRA Portal & Mobile App
PFRDA vide its Circular dt. 27.10.2021 informed that CRA would be facilitating the Aadhaar seeding framework for the benefit of Atal Pension Yojana (APY) subscribers through their explicit consent framework. The feature is enabled and nearly 17000 APY Accounts are seeded with Aadhaar till date.
2. The Government of India (GoI) had introduced APY, with effect from 1 June 2015, pursuant to the announcement in the budget for 2015-16 for building a Pensioned Society where the old age of every Indian Citizen from unorganized sector secured with regular stream of monthly income. APY administered by the PFRDA through its scalable NPS technology architecture as per the policy guidelines of GoI.
3. APY classified under Section 7 of the Aadhaar (Targeted Delivery of Financial and Other Subsidies, Benefits and Services) Act, 2016 and under which GoI had notified APY as on 11 May 2017 and further clarified vide UIDAI circular dt 25th November 2019.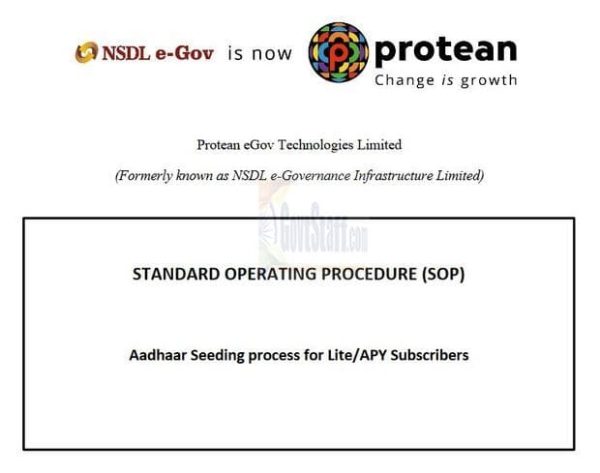 4. The facility of Aadhaar seeding is provided for the benefit of Subscribers through CRA portal and through NPS Mobile app "APY and NPS Lite". Additionally, APY-SPs can also collect the Aadhaar details from their associated subscribers who are their customers with due consent which would then be shared with CRA for seeding. APY-SPs can use the file format provided by CRA for Aadhaar seeding considering the large number of APY accounts already opened and to ease the process of Aadhaar seeding for the benefit of Subscribers. The Subscribers base under APY grows very rapidly which is currently nearing 5 cr.
5. Important Information for the APY Subscribers while seeding: It needs to be ensured that the name of the subscriber and Date of Birth (DoB) as per CRA records do match with the information available in Aadhaar.
6. The following Annexures provided for the benefit of Subscribers and stakeholders
A) Process flow on "Aadhaar Seeding for APY Subscribers" through CRA Portal (https://npslite-nsdl.com/CRAlite) – Annexure I
B) Screen shots of APY Mobile App for seeding – Annexure II
C) Format of Aadhaar seeding request, which can be submitted through APY SP – Annexure III
APY SPs can guide and handhold their subscribers about the process of Aadhaar seeding and its
importance.
Yours sincerely,
Sd/-
Chief General Manager
Follow us on Telegram Channel, Twitter and Facebook for all the latest updates