PCDA Circular: Implementation of PFMS w.e.f. 01-08-2020 reg.
Circular
कार्यालय, रक्षा लेखा प्रधान नियत्रक (प. क.) चंडीगढ – 160 009
OFFICE OF THE PRINCIPAL CDA (WESTERN COMMAND)
CHANDIGARH-160009
दुरभाष संख्या: 0172-2741611-14, 2741990, 2740445 फैक्स: 0172-2742552
Email:-pcdawc-accounts @cgdamail.org
No. Accounts-1/1444/PFMS
Dated : 14 /09/2020
To
The officer In-Charge of all sub Offices
The officer In- Charge , All section of Main Office
All IFAs
Subject: Implementation of PEMS w.e.f. 01-08-2020 reg.
It is intimated that the payment works of DAD employees related to Pay and Allowances and other personal claims are being switched over from Tulip to PFMS platform. In order to facilitate smooth Switching over to PFMS, personal details of the DAD employees as per Annexure-A enclosed are essentially required. It is therefore requested that requisite detail as per annexure may please be got completed from Staff and officers and forwarded to this office latest by 18-09-2020. Correctness of data may please be ensured before forwarding to this office. The officer-In-Charge may ensure all forms have been completed by all officials. The same may please be forwarded through mail to AN -V ([email protected]).
This circular may please be treated as Most Urgent.
(Sahil Goyal)
DyCDA (AN)
Copy to
The EDP (Local) : For uploading of the website.
Sahil Goyal
DyCDA (AN)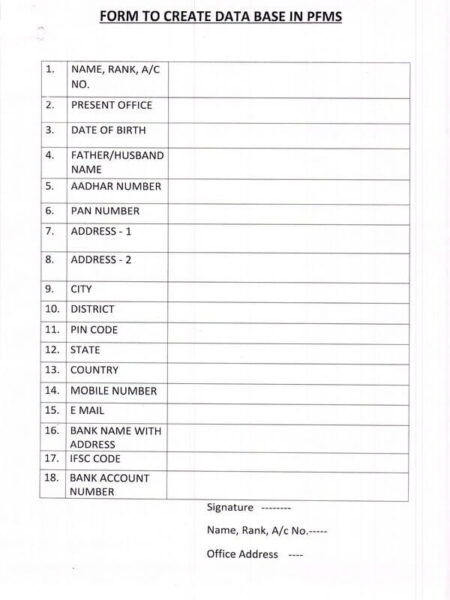 Source: PCDA
http://pcdawc.gov.in/images/pdf/circulars/accounts/6831_imp.PDF