SAMPANN – Life Certificate/Digital Life Certificate submission by pensioners: Instructions by Department of Telecommunication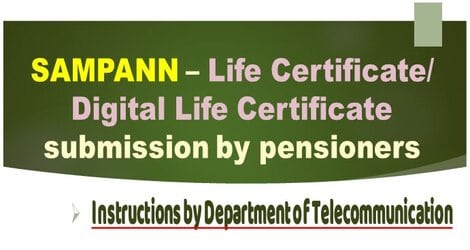 भारत सरकार/ GOVERNMENT OF INDIA
संचार मंत्रालय/ MINISTRY OF COMMUNICATIONS
दूर संचार विभाग/ DEPARTMENT OF TELECOMMUNICATIONS
20. अशोकारोड, संचारभवन/20, ASHOKA ROAD, SANCHAR BHAWAN
नई दिल्‍ली- 10001/ NEW DELII-110001
No.47-15/TA-II/CPMS/2018/Pt.1/ 2628-2656
Date: 15/10/2020
To,
All Pr CCAS CCAS
Sabject: SAMPANN- LC/DLC submission by pensioners- reg.
Ref: DoPAPW Order No 181-2020-PAPWIC +6681 dated 11 September, 2020
It is to inform that pensioners receiving pension directly from CCA offices via SAMPANN/FMS have been given relaxation to submit their Life Certificates (LC) in a staggered manner by way of staggering. a pensioner has to submit the Life Certificate within one scar of last submission of in November as per convenience.[irp]
2. Further, several such pensioners did not submit Life certificate in November, 2019 who were due to submit their LCs in the months between February, 2020 and July, 2020 as one-year period was getting over by then keeping in mind the vulnerability of senior citizens to Covid-19 pandemic and convenience of pensioners, the timelines for submission of Life Certificates were extended from time to time. The last extension was given till 30th September, 2020 by which pensioners had to submit their Life certificates i.e. for such pensioners, for whom the pension till August has been paid. Additionally, CCA offices had been advised to reach out to pensioners via SMS and calls to ensure submission of the Life certificates on time.
3. Thereafter several additional measures have been taken to facilitate pensioners for submission of Life certificate in Aug-Sep 2020.[irp]
I. BSNL has directed its units to set up DLC facility at one CSC in each SSA and the same is being coordinated by CCA offices.
II. Banks have been asked to provide Digital Life Certificate/Life certificate to pensioners having hank account with them. SBI has already directed its branches for the same. Further, list of pensioners- hank branch wise has been circulated among all CCA offices so that pensioners can be assisted.
III Further, CSC e-Governance Services India Ltd has also been asked to continue its support for generation of DLC across all of the branches of CSCs across India.
IV. Further, a user friendly video on the process of generation of Life certificate generation has been circulated among CCA offices and Pensioners Associations. It is already hosted on YouTube channel of DOT and the websites of DOT and SAMPANN.
4. In the meantime, in view of the ongoing Covid-19 pandemic and keeping in view of the vulnerability of elderly population to Corona Virus, it has been decided by DoP&PW to extend the existing timeline for submission of Life Certificate vide letter under reference (enclosed)[irp]
5. Therefore, in the light of above. I am directed to convey that:
I. Those SAMPANN/FMS pensioners whose Life Certificate would be expiring on 31st October 2020 (1. pension payable till October 2020) or 10th November 2020(i.e. pension payable till November 2020), may be allowed to submit DLC/LC from 1st November, 2020 onward till 31st December 2020. However, the pensioners in the age group of 80 years and above. in above category. can submit Life Certificate from 1st October, 2020 onwards, to 31st December, 2020. Further. the pension shall continue to be paid by the CCA offices uninterrupted till Dec 2020 in above cases.
II. Pensioners whose LC/DLC has expired by 30 September 2020 or prior to it (including those who have been given relaxation for submission of LC/DLC by previous orders) may once again be requested to submit their LC/DLC to ensure uninterrupted disbursement of pension.
III. Pensioners who are due to submit their LC in Jan 2021 – Feb 2021 of onwards, including the BSNL/MTNL VRS 2019 retirees, may also be motivated for submitting their LC/DLC well in advance as per their convenience to avoid any difficulty in the event of deterioration in local Covid-19 pandemic conditions.
IV. CCA offices may take all measures to inform the pensioners regarding above measures taken by the department to facilitate the submission of LC/DLC by SMS etc.
This issues with the approval of competent authority.
Enclosure: As above.
(Shankara Nand Mishra)
Director (A/c-I&DFU)
Tel: 011-23036511
Email: [email protected]

Copy to: Addl. CGCA
Source: Click here to view/download PDF