FAQ-03 : Special cash package equivalent in lieu of leave Travel Concession Fare during the Block 2018-21 – CGDA letter dt 26-11-2020

रक्षा लेखा महानियंत्रक
Controller General of Defence Accounts
उलान बटार रोड, पालम, दिल्‍ली छावनी-110010
Ulan Batar Road, Palam, Delhi Cantt- 110010
सं. प्रशा.(XIV/19015/सरकारी आदेश/या.भ./छु.या.रि./चिकित्सा
No. AN/XIV/19015/Govt. Orders/TA/DA/LTC/Medical
दिनांक 26.11.2020
सेवा में,
सभी रक्षा लेखा प्रधान नियंत्रक/रक्षा लेखा नियंत्रक/प्र.ले.नि.(फै.)
All PCsDA/CsDA/PCA (Fys)
(वेब साइट के द्वारा / Through Website)
विषय

: Clarification regarding queries being received in respect of Special cash package equivalent in lieu of leave Travel Concession Fare for Central Government Employees during the Block 2018-21 (FAQ No. 3).
उपरोक्त विषय पर भारत सरकार, वित्त मंत्रालय, व्यय विभाग के दिनांक 25 नवम्बर, 2020 के कार्यालय ज्ञापन एफ. सं० 12(2)/2020-ई-॥.ए, जो वित्त मंत्रालय की वेबसाइट पर उपलब्ध है, की प्रति सूचना, मार्गदर्शन एवं अनुपालन हेतु अग्रेषित की जाती है।
A copy of Government of India, Ministry of Finance (Department of Expenditure) Office Memorandum F. No. 12(2)/2020-E.IIA dated 25.11.2020 on the above subject, which is available on the website of MoF, is forwarded herewith for your information,
संलग्रक: यथोपरि
(राजीव रंजन कुमार)
रक्षा लेखा उप महानियंत्रक (प्रशा)
प्रतिलिपि :-
प्रशासन (वेतन) ।

लेखा परीक्षा (समन्वय) अनुभाग (स्थानीय) ।

आई.टी.एवं एस. विंग (स्थानीय) :- रक्षा लेखा महानियंत्रक की वेबसाइट पर अपलोड करने हेतु ।

प्रशिक्षण एवं संगोष्ठी केंद्र, बरार स्क़्वायर, दिल्‍ली छावनी ।

पुस्तकालय अनुभाग (स्थानीय) ।

मास्टर नोट बुक प्रशासन-वेतन तकनीकी ।

महासचिव, ए.आई.डी.ए.ए. (सी.बी.) पुणे (द्वारा रक्षा लेखा प्रधान नियंत्रक (अधिकारी) पुणे) ।

महासचिव, ए.आई.डी.ए.ई.ए. (मु०) कोलकाता (द्वारा प्रधान नियंत्रक लेखा (फेक्ट्री) कोलकाता) ।
(प्रदीप कुमार)
लेखा अधिकारी(प्रशा)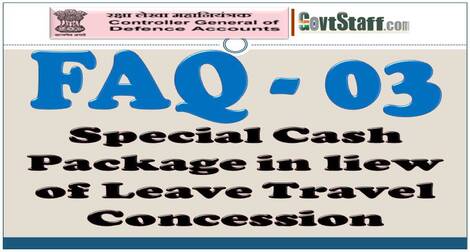 Source: Click here to view/download PDF
https://cgda.nic.in/adm/circular/AN-XIV-Clarification-271120.pdf