Empanelment of Jiva Gram Center for Wellbeing, Faridabad under CGHS/CS(MA) Rules
F.No. S. 110011/90/2016-CGHS (HEC)/AYUSH/Pt.1
Government of India
Ministry of Health& Family Welfare
Directorate General of Central Government Health Scheme
*****************
Nirman Bhavan,
New Delhi
Date: 12th February, 2021
OFFICE MEMORANDUM
Subject:- Empanelment of AYUSH Hospital/Centers under CGHS/CS (MA) Rules.
With reference to the above mentioned subject attention is drawn to the Office Memorandum of even Number dated the 9th November, 2017 and to state that the following AYUSH Hospital has signed new MoA and submitted PBG and is notified as CGHS empanelled hospital till 31 July, 2022 from the date of issue of this O.M. as per revised CGHS rates and terms and conditions as contained in the said OM:
1. Jiva Gram Center for Wellbeing (A Unit of Jiva Ayurvedic Pharmacy Limited), Village-Riwajpur, Kherikalan Sector 89, Faridabad, Haryana -121002, Phone No. 9319227333, Email:- [email protected] (NABH)
(Dr. Sanjay Jain)
Director, CGHS
To:
All Ministries/ Departments, Government of India.
Director, CGHS , Nirman Bhawan, New Delhi.
Addl. DDG (HQ) /All Additional Directors/Joint Directors of CGHS cities outside Delhi.
All Pay & Accounts Officers under CGHS.
Additional Director (HQ) /Additional Director (SZ)/(CZ)/(EZ)/(NZ),CGHS , Delhi.
JD(Gr.) JD (R&H), CGHS Delhi.
CGHS Desk-I /Desk-II/CGHS-I/CGHS-II,Dte. GHS, Nirman Bhawan New Delhi.
Estt./Estt.I/Estt.II/Estt.IV Sections, Ministry of Health & Family Welfare.
Admn. I /Admn.II Sections of Dte. GHS.
Rajya Sabha/Lok Sabha Secretariat.
Registar, Supreme Court of India/Punjab & Haryana High Court,Chandigarh.
U.P.S.C.
Finance Division.
Deputy Secretary (Civil Service News), Department of Personnel & Training, 5th Floor, Sardar Patel Bhawan, New Delhi.
PPS to Secretary (H&FW)/ Secretary (AYUSH)/Secretarty (HR)Secretary (AIDS Control), Ministry of Health & Family Welfare.
PPS to DGHS /SS&MD,NRHM/AS(HVAS& DG (CGHS).
Swamy Publishers (P) Ltd., P.B. No. 2468, R.A. Puram, Chennai 600028.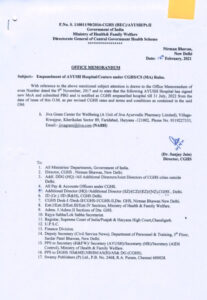 https://cghs.gov.in/showfile.php?lid=5998