ECHS: COVID Vaccination in r/o ECHS Beneficiaries for above 60 years and age Gp of 45 years to 59 years with co-morbidities
Central Organisation ECHS
Integrated HQ of MoD (Army)
Adjutant General's Branch
Thimayya Marg, Near Gopinath Circle
Delhi Cantt-110010
B/49762/AG/ECHS/2021                           01 Mar 2021
IHQ of MoD (Navy)/Dir ECHS (N)
Air HQ (VB)/DPS
HQ Southern Command (A/ECHS)
HQ Eastern Command (A/ECHS)
HQ Western Command (A/ECHS)
HQ Central Command (A/ECHS)
HQ Northern Command (A/ECHS)
HQ South Western Command (A/ECHS)
HQ Andaman & Nicobar Command (A/ECHS)
All Regional Centres
COVID VACCINATION IN R/O ECHS BENEFICIARIES FOR ABOVE 60 YEARS AND AGE GP OF 45 YEARS TO 59 YEARS WITH CO-MORBIDITIES
1. Please ref fwg :-
(a) COECHS letter No B/49762/AG/ECHS dt 10 Feb 2021 (Copy att).
(b) Prevailing guidelines on COVID vaccination by Gol for general public above the age gp of 45 years wef 01 Mar 2021. .
2. As all ECHS Polyclinics will act as COVID Registration Facilitation Centres for providing assistance to ECHS beneficiaries, you are requested to promulgate following directions to all Polyclinics :-
(a) All ECHS Polyclinics should earmark one / two computer with internet facility which is already existing at Polyclinics for facilitating registration to ECHS beneficiaries.
(b) OIC, ECHS Polyclinic will be responsible for training of ECHS Polyclinic staff / DEO wrt registration process. User manual for the same is att as Appendix 'A'.
(c) Medical Officer of ECHS Polyclinic should provide medical certificate to ECHS beneficiaries of age group of 45 years to 59 years with co-morbidities.
3. List of co-morbidities and format of Medical Certificate are att as Appendices 'B' & 'C'.
4. Leftover unregistered ECHS Polyclinic Staff will also be registered under COWIN 2.0 portal as per guidelines given in Appendix 'D'.
5. For your info and necessary action please.
(Panchal Kalpeshkumar S)
Lt Col
Jt Dir (Med)
for MD ECHS
Encls : As above.
Internal
Stats & Automation Sec – for uploading this letter on ECHS website.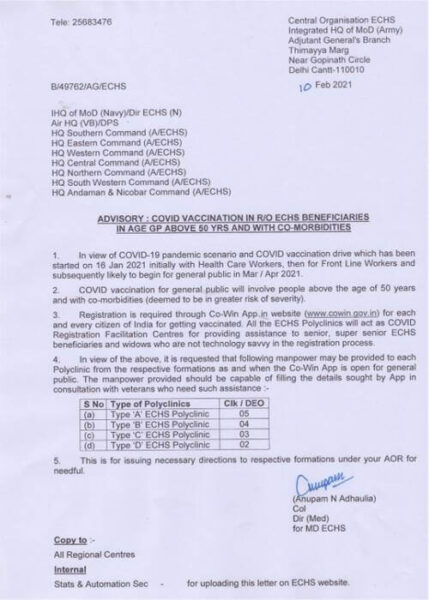 Source: Click here to view/download PDF