Appropriate COVID Behaviour – Violation would be viewed seriously and action shall be taken as per extant guidelines and/or appropriate Conduct Rules – Finmin Circular F. No. 26015/2/2020-GAR dated 16th April, 2021
F. No. 26015/2/2020-GAR
Government of India
Ministry of Finance
(Department of Revenue)
******
New Delhi, the 16th April, 2021
Circular
Subject: Appropriate COVID Behaviour –
It has been observed that during office hours in North Block and other premises of the Ministry of Finance, several of the officers/staff are violating COVID appropriate behaviour norms, by not maintaining appropriate social distancing, not wearing masks, etc.
2. Accordingly, all the officers/staff (including outsourced personnel, visitors) are
requested to strictly adhere to the COVID appropriate behaviour in office complex, as mentioned in the guidelines issued by the Ministry of Health, Ministry of Home Affairs and Department of Personnel and Training, viz. wearing of masks, physical distancing, etc. If any violation is noticed in CCTV footage, it would be viewed seriously and action shall be taken as per extant guidelines and/or appropriate Conduct Rules.
3. This issues with the approval of the Competent Authority.
(Rakesh Kumar)
Under Secretary to the Government of India
Tel. No. 23095366/ Email: [email protected]
To:
All officers of the Department of Revenue (through DOR/E-office website)
Copy to:
US (Ad. IV), DEA.
US (GAD), DoE.
Reception Officer, Gate No. 2/9
Asstt. Commandant, CISF
JE (Civil), North Block, CPWD
JE (Electrical), North Block, CPWD
NIC — for uploading the circular in website of the Department.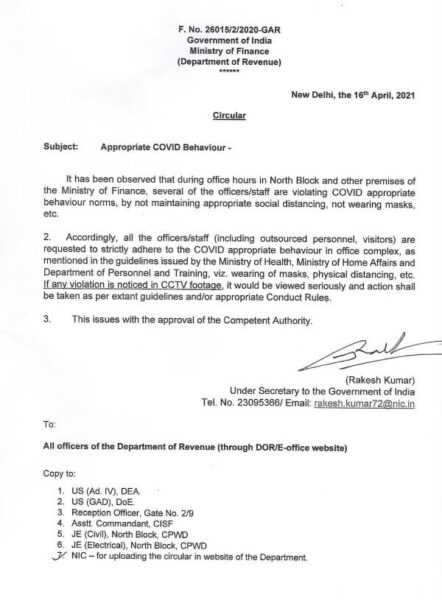 FINMIN