Preventive measures to contain the spread of COVID-19 – Keeping close vigil on all officials as regards to any COVID-19 related symptoms
"हर एक काम देश के नाम"
(Through PCDA(WC) Website)
रक्षा लेखा प्रधान नियंत्रक (प.क.) चंडीगढ़-160009
PRINCIPAL CONTROLLER OF DEFENCE
ACCOUNTS
(WESTERN COMMAND), CHANDIGARH-160009
Tel.No. :0172-2741611, E-mail:
[email protected]
No. AN/I/1041/Circular Dated: 05/04/2021
Subject: Preventive measures to contain the spread of COVID-19.
Ministry of Home Affairs, New Delhi vide order No. 40-3/2020-DM-I(A) dated 23rd March 2021 have issued guidelines for effective control of COVID-19 in view of the fresh surge in COVID-19 cases.
2. In view of above, all the Officers Incharge are requested to keep a close vigil on all officials as regards to any COVID-19 related symptoms. Any official found with any symptoms may be advised to get tested for COVID-19 without delay.
3. It may also be ensured that the officials visiting their home towns on weekends or availing station leave do not have any COVID-19 related symptoms on joining their duty in the office.
4. All the Officers Incharge are requested to take all necessary measures to promote COVID-19 appropriate behaviour at work place inter-alia the officials may be advised/motivated for COVID-19 vaccination.
5. All guidelines issued by Min of Home Affairs g respective State govt./ U.T Administration be strictly complied with.
PCDA has seen.
(SAHIL GOYAL)
Dy. CDA(AN)
Copy to:
PS to PCDA/JCDA/GO(AN)
All IDAS officers (Local)
All Officers Incharge in Main Office
All sub offices under PCDA(WC)
IT&S Section (Local).. for uploading on PCDA(WC) Website.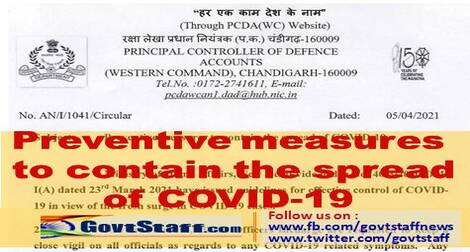 Click here to view/download the PDF