7th Pay Commission : Govt may clear its stand on Dearness Allowance (DA) and Dearness Relief (DR) soon.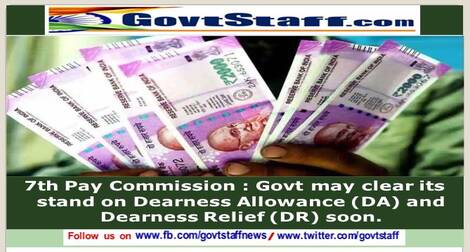 Central government employees wait for Dearness Allowance (DA) and pensioners' Dearness Relief (DR) is about to end as they will be given revised salary from July 1. The government had announced that their stalled DA and DR will be restored from the next month. As they are almost certain to get hiked salary from July 1, what they have been waiting for is the government's response on arrears. It appears that central government employees will soon get better clarity on this issue too.
In a related development, it is learnt that a meeting will be held in the end of this month to take final call on arrears and pending DAs.  As per Live Mint, a meeting between Central government servants' representative body National Council of JCM, officials from the Department of Personnel & Training (DoPT) and Ministry of Finance has been scheduled for June 26.
This meeting is crucial for central government employees as it will decide how much hike they will get in their salary and whether they will be compensated for their pending DAs too. The government had frozen DA and DR of Central government employees since April 2020 in the view of Covid 19 outbreak.
The government employees and pensioners have been demanding that they be compensated for DA and DR due from 1.1.2020, 1.7.2020 and 1.1.2021.
So far, the government had not confirmed anything on the arrears. The meeting schedule on June 26  will throw clear picture on arrear benefits of DA and DR under the recommendation of the 7th Pay Commission.
Currently, Central Government employees DA is 17%, which is expected to be hiked by another 11 %.  The increase in the DA is likely to include a 3 percent hike from January to June 2020, a 4 percent from July to December 2020, and another 4 percent hike from January to June 2021 that is (17 + 4 + 3 + 4) 28 percent.
Source: https://www.zeebiz.com