Capacity Building Training Programme for Finance functionaries – KVS invites suggestion
केन्‍द्रीय विद्यालय संगठन (मु.)/
Kendriya Vidyalaya Sangathan (HQ)
18 संस्‍थागतक्षेत्र/ 18 Institutional Area,
शहीद जीत सिंह मार्ग/Shaheed Jeet Singh Marg,
नई दिल्‍ली – 110016/New Delhi -110016
F.110239/2/2021/KVS(HQ)/Budget/
Date: 11.03.2022
The Deputy Commissioner
Kendriya Vidyalaya Sangathan
All Regional Offices
Subject: Suggestion for capacity building training programme for KVS Finance functionaries – reg.
Madam/Sir,
As you are aware that training of employees is an important aspect for efficient functioning of an organisation. In fact training and retraining is a crucial activity to bridge the gap between job needs and employee skills. It is not out of place to mention here that finance is backbone of any organisation. As such, the employees working in finance division should have thorough knowledge of financial matters for discharging their duties properly.
In view of the above, it has been decided to organize a training programme for KVS finance functionaries on financial matters. However, it will be better if the topics/area/matters which should be included in the training programme are suggested by the field offices.
It is therefore requested that the suggestions if any on the aforesaid matter may please be sent to this office through email ([email protected]) by 22.3.2022.
Yours faithfully
(Satya Narain Gulia)
Joint Commissioner(Fin)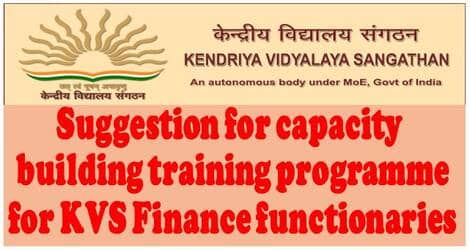 Source : Click here to view/download PDF