Nationwide strike on 28th & 29th March, 2022-Normal functioning of DAD Offices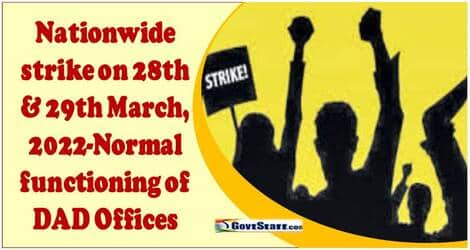 रक्षा लेखा विभाग (र.ले.वि.) मुख्‍यालय
उलान बटार रोड, पालम, दिल्‍ली छावनी -110010
DEFENCE ACCOUNTS DEPARTMENT (DAD) HEADQUARTERS
Ulan Batar Road, Palam, Delhi Cantt.- 110010
No.Estt/Coord/17022/strike/2022
Date 24.03.2022
To
All PCDAs/PIFAs/PCA(Fys)
CDAs/IFAs/RTCs
(through DAD HQrs website)
Sub: Nationwide strike on 28th & 29th March, 2022-Normal functioning of DAD Offices-reg.
Please find enclosed herewith a copy of Ministry of Defence, Department of Defence, D(JCM) ID No. 17(2)/ 2020-D(JCM) dated 17.03.2022 alongwith enclosures referred therein on the subject matter for information and necessary action.
2. The Ministry of Defence has requested to take all remedial precautionary measures before/during the nationawide strike organized by the Confederation of Central Government Employees & Workers and All India Defence Employees' Federation on 28t & 29th March, 2022 in the light of DoP&T's instructions dated 12.09.2008.
3. It is accordingly requested to take all necessary measures for normal working in all DAD offices during the strike call on 28% & 29! March, 2022. The staff be cautioned that participation in strike may attract deduction of pay/break in service and disciplinary action including recourse to provision of FR 17, 17A and Rule 7 of CCS(Conduct) Rules.
4. A report to this effect on the offices functioning under your control and details of employees participating in the strike may please be rendered to HQrs. office immediately by email at [email protected]. Nil report may also be rendered.
(G.K. Baranwal)
Sr. Dy. CGDA (Estt.)
Copy to:
1. Estt(Pay & Allowances) Local For information.
2. IT &S Local For uploading on DAD HQrs website.
(KSP Srivastava)
Accounts Officer(Coord-Estt)