Publication of Hand Books on Establishment Matters – Benefits related to Railway Employees
SOUTHERN RAILWAY
Divisional Office,
Personnel Branch,
Salem — 636 005.
No.SA/P..721/Welfare
Date:22.09.2022.
All Branch Officers /SA Division,
All Supervisory Official / SA Division
Sub:- Publication of Hand Books on Establishment Matters.
&&&&&&
As a welfare measure for the benefit of Serving & Retired Railway Employees the two Hand Books on Establishment matters on following title are prepared by the Railway Administration (Personnel & Accounts Branch) and were released by General Manager, Southern Railway on his Annual Inspection dated:27.09.2022.
1) Hand Book on Benefits to Railway Employees
2) Hand Book on Settlement Benefits
The above hand books are uploaded in the Southern Railway, Salem Division, Personnel Branch website.
URL Link
https://sr.indianrailways.gov.in/view_section.jsp?fontColor=black&
backgroundColor=LIGHTSTEELBLUE&lang=0&id=0, 1,304,380,574
Wide publicity may be given to all the employees working under your
control.
(P.K.Soundra Pandian, IRPS)
Sr. Divisional Personnel Officer,
Salem.
Copy to: DSs/SRMU, AISCST REA, AIOBC REA for information.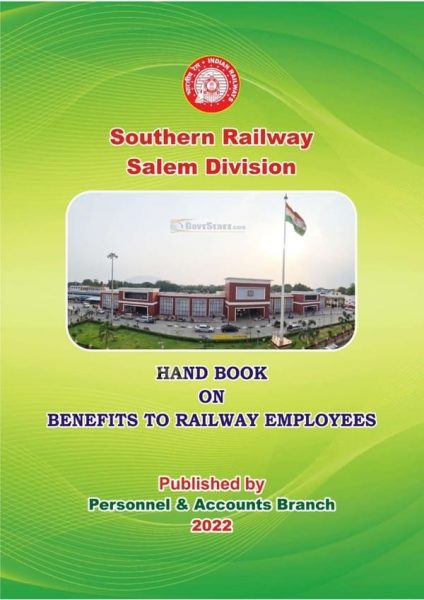 Source: Click to view/download PDF