Publication of single IFA Manual 2020 reg. – CGDA Circular No. 28 of 2020
कार्यालय रक्षा लेखा महानियंत्रक
Controller General of Defence Accounts
उलान बटार रोड़, पालम, दिल्ली छावनी-110010
Ulan Batar Road, Palam, Delhi Cantt — 110010
(IFA Wing)
No. IFA/89/IFA Manual/1/2020
Dated 01.12.2020
Circular No.28 of 2020
To
All PIFAs/IFAs
(Through CGDA Website)
Sub: IFA Manual 2020.
There were separate IFA Manual for different Wings of the Armed Forces viz. Army, Navy, Air Force and also for Border Road Organisation. Since, basic finance functions being performed by all the IFAs are more or less same, hence, in supersession of all IFA Manuals, a single manual 'IFA Manual 2020' has been prepared and uploaded on SIFA.
2 Apart from the above, E-Compendium of important instructions, circulars and other orders has already been forwarded to all PIFAs/IFAs vide HQrs IFA Wing letter No. IFA/10/1/2020 dated 05.10.2020.
This issues with the approval of CGDA.
(Nihar Ranjan)
AO (IFA)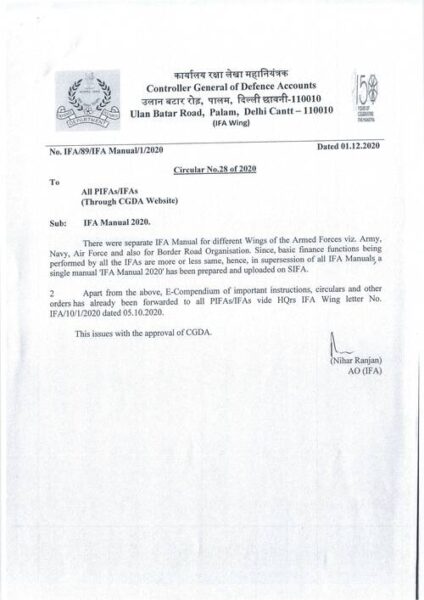 Source: Click here to view/download PDF