Communication through eMail – Important Instructions by DAD HQ
"हर काम देश के नाम"
रक्षा लेखा विभाग (र.ले.वि.) मुख्यालय
उलान बटार रोड, पालम, दिल्‍ली छावनी-110010
DEFENCE ACCOUNTS DEPARTMENT (DAD) HEADQUARTERS
Ulan Batar Road, Palam, Delhi Cantt.- 110010
No.IT & S/148/LPT/Internet
Dated: 10.06.2022
MOST IMPORTANT
To
All PCsDA/CsDA/PIFAs/IFAs
RTCs/NADFM
(through CGDA Website only)
Subject: Instructions on communication through eMail.
It is observed that official communications are being exchanged through email on commercial domains viz., gmail, yahoo etc instead of through email id on NIC domain. In this context, instructions have been issued vide this HQrs Office letter No.Mech/IT&S/ 148/LPT/Internet/Vol.III dated 13.06.2017 (https://cgda.nic.in/adm/circular/IT&S-LPT-130617.pdf) to use NIC domain only for sharing official communication and not to use other commercial domains. Exchanging official communication through email ids on NIC domain ensures that the communications are safe from cyber attacks.
2. All DAD offices may please be ensured that they are having email ids on NIC domain and official communications are exchanged through NIC mails only. In case any office does not have email id on NIC domain, requests for creation of new email id may be sent through respective PCsDA/CsDA and/or PIFAs / IFAs on "nicmailapp[dot]dad" available on DAD WAN, with the relevant particulars of officer (Administrator) responsible for operating the email i.e., name, designation, date of birth, mobile no. etc.
3. It is also observed that requests for updating of profile information, change in mobile number etc in respect of individual officers/ staff are received in this HQrs office through email on commercial domains. In this context, it is intimated that any such requests received through emails on commercial domains, other than NIC, will not be entertained by this HQrs Office. Emails regarding any query / assistance / requests regarding NIC email id may be sent only from email ids on NIC domain to this HQrs Office mail id <nicmail[do]dad[at]hub[dot]nic[dot]in>.
4. Requests for reactivation of email account, resetting of password and change of Administrator in respect of DAD offices and individual officers / staff should be sent through official mail id of PCsDA/CsDA/PIFAs/IFAs only.
(V. Srinivasan)
ACGDA (IT&S)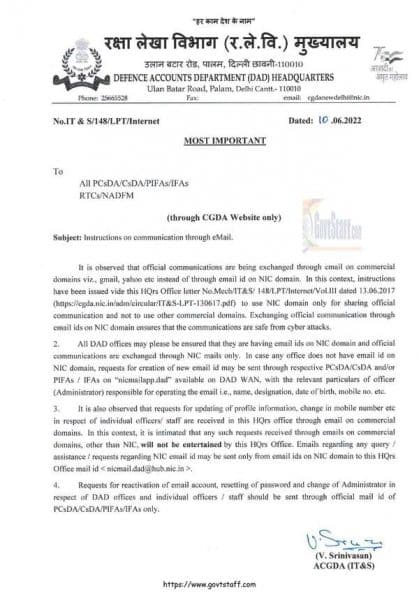 Source : Click to view/download PDF