Participation of Railway officers in Disha meetings – Railway Board order dated 17.08.2022
भारत सरकार GOVERNMENT OF INDIA
रेल मंत्रालय MINISTRY OF RAILWAYS
(रेलवे बोर्ड RAILWAY BOARD)
No.2018/Trans/01/BC
New Delhi, Dated: 17.08.2022
The General Manager,
All Indian Railways
Sub: Participation of Railway officers in Disha meetings.
Ref: 1. Railway Board's L. No. 2018/Trans/01/BC dated 22.03.18
2. DGM/G/NR's letter No.76G/DISHA/2022 dated 25.07.2022
Participation arrangement of Railway Officers in Disha meeting was issued vide reference 1 above and reiterated vide letters of even no. dated 14.06.22 & 07.07.22. Now, based on request from Zonal Railway, Board (Chairman & CEQ) has considered it and approved the following:
In the interest of Railways, such meetings should continue to be attended by DRM/ADRMs.
Wherever it is not feasible for DRM/ADRM to attend DISHA meeting, Divisional officers not below JAG fully conversant with the matter may be deputed to attend the meeting.
Railways' reply on agenda item shall be approved by DRM or nominated ADRM.
Compliance on the above instructions may please be ensured.
(Ajit Kumar Singh)
EDME/Transformation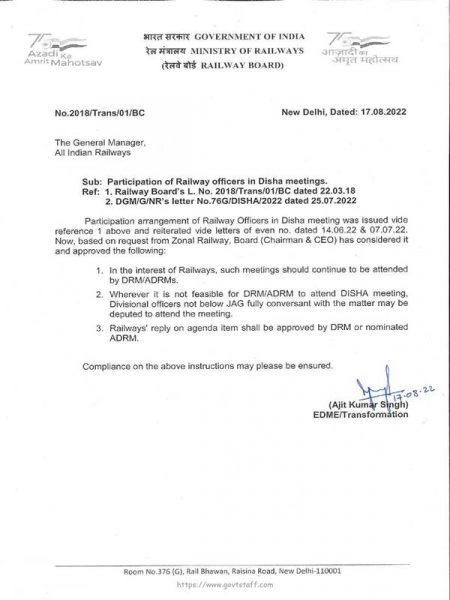 Source: Click to view/download PDF