Travelling Allowance to the Officials Deployed for Election Duty
MINISTRY OF DEFENCE
Office of the JS & CAO
PAYMENT OF TRAVELLING ALLOWANCE TO THE OFFICIALS DEPLOYED FOR BYE-ELECTION TO ASSEMBLY CONSTITUENCY NO.39 (RAJINDER NAGAR)
1. References:-
(a) Govt of NCT of Delhi/Finance Department (Policy Division) Office Memorandum No.F.20/19/2013/AC/1908-1911 dated 07 Jun 2022.
(b) Ministry of Defence/D(Est.I) ID Note No.A-438014/01/2022-D (Est.I/Gp.I]) dated 28 Jul 2022.
2. Officials who were deployed for Election Duty in connection with Election to the Bye-election to Assembly Constituency No.39 (Rajinder Nagar) held on 23 Jun 2022 are entitled for reimbursement of expenses incurred by them under the TA Rules for hiring conveyance, if no conveyance facility was provided to them.
3. The officials deployed for the Election related duties may furnish their claim in the specific prescribed proforma and forward the same to the concerned administrative section in triplicate latest by 10 Nov 2022 alongwith photocopies of cheque leaf, appointment orders and other supporting documents issued by concerned election authorities.
4. The claims for long term election duty like Sector Officer etc will be verified by the concerned RO/AROs and for short term duty i.e. for trainings and one day election duty TA claim bills of the officials will be verified by the AOs of concerned administrative section and duly countersigned by the SAO/ Mov.
5. The entitlement of conveyance is as given below:
Grade Pay (in the Pre- revised scale
Entitlement *
Rate
Initial Charges
Per Km
₹ 4200 /- (L-6) & above Taxi
Taxi
₹ 25 for first Km
₹ 14.00
Below ₹ 4200/- (L-6)
Auto Rickshaw
₹ 25 for 1.5 Kms
₹ 09.50
* In case of journey by bus, actual fare is to be claimed.
6. The reimbursement shall, however, be restricted to the concerned officials as per TA Rules applicable.
7. All Coord Sections are requested to widely circulate the above instructions to all sections under their control for information of the employees concerned.
8. This has the approval of Competent Authority.
(Vinod Kumar)
Dy Director (Coord)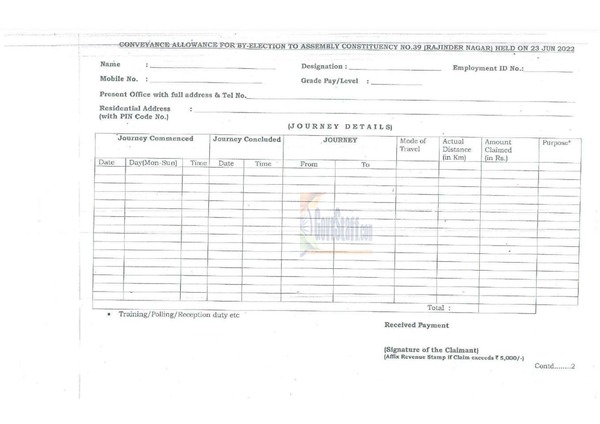 Source: Click to view/download PDF