7th Pay Commission: Refixation of pay due to withdrawal of bunching effect – MES order dated 10-11-2020
Tele: 25688587
REGD/SDS/POST
Central Record Office (Officers)
PIN — 900106
C/o 56 APO
CRO/20/IDSE/Bunch/64/GP-I
10 Nov 2020
CAO /A6 JS (Trg) & CAO, New Delhi               – Kind Attn Dy CAO
HQ CE Western Command, Chandimandir    |
HQ CE South West Command, Jaipur             |
HQ CE Northern Command, Udhampur         |  Kind Attn Jt DG (Pers)/Col
HQ CE Central Command, Lucknow (Pers)    |
HQ CE Eastern Command, Kolkata                  |
HQ CE Southern Command, Pune                    |
ADG (P) Chennai
ADG (North) Jammu
ADG Guwahati
DGNP Mumbai
DGNP Vizag
CME Pune
EXCESS PAYMENT IN RESPECT OF ENGINEER CADRE (OFFICERS) ON ACCOUNT OF WITHDRAWAL OF BUNCHING CASES IN REVISED Pay STRUCTURE UNDER CENTRAL CIVIL SERVICES (REVISEC PAY RULES-2016)
1. Further to our letter No.CRO/20/IDSE/Bunch/63/Gp-1 dt 12 Oct 2020.
2. It has come to our notice that necessary action has already been taken on account of refixation of pay due to withdrawal of bunching effect given earlier in respect of some of the officers given in Appx 'A' 'B' & 'C' of the ibid reference. Therefore, their names may be ignored accordingly.
3. However, it is also observed that PTO for the above casualty has not been received in this office. Therefore, it is requested to forward the same on utmost Priority on the email ID of CRO ([email protected]) to update our records.
4. Please accord PRIORTY.
(Naveen Kumar, IDSE)
Dir
CRO (Officers)
Automation Cell: Please upload the letter on the MES website in open domain.
Internal – Coord Sec – For necessary action pl.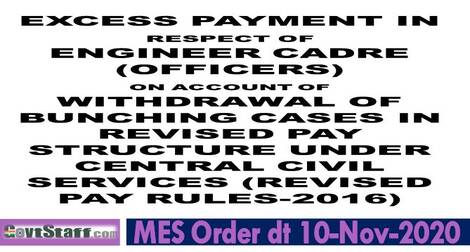 Source: Click here to view/download PDF