Fixing of Abnormally Low Rates (ALR) in GeM portal while publishing bids for outsourcing of manpower contracts
Dte of Works, E2W/Tech Coord
Room No 149A (E3 Cell)
Engineer-in-Chief's Branch
Integrated HQ of MoD (Army)
Kashmir House Rajaji Marg,
Delhi-110011
A/00062/GEM/E2W/TC (E3 Cell)
16 Feb 2022
Headquarters
CE Southern Command
CE Eastern Command
CE Western Command
CE Central Command
CE Northern Command
CE South Western Command
ADG (NEI), Guwahati
ADG (Project), Chennai
ADG (North), Jammu
(Through MES Website only)
FIXING OF ABNORMALLY LOW RATES (ALR) IN GEM PORTAL WHILE PUBLISHING BIDS FOR OUTSOURCING OF MANPOWER CONTRACTS
1. Please find attached a copy of DGFP, GS Branch, IHQ MoD (Army) letter No. A/89591/GeM/FP-1 & Coord dated 31 Jan 2022.
2. For information, wide dissemination and necessary action please.
(Rajiv Bhola)
Col
SO-II (E3 Cell)
E2W/Tech Coord
For E-in-C
Tele : 23018063
Dte Gen of Fin Plg
Gen Staff Br
IHQ of MoD (Army)
Room No 422, A Wing
Sena Bhawan, New Delhi-11
A/89591/GeM/FP-1 & Coord
31 Jan 2022
Cols FP
All Comds
FIXING OF ABNORMALLY LOW RATES (ALR) IN GEM PORTAL WHILE PUBLISHING BIDS FOR OUTSOURCING OF MANPOWER CONTRACTS
1. A No of representations have been recd from the envt regarding non availability of window for fixing of min service charges by the Buyer on GeM portal leading to abnormally low rates being quoted by Sellers in Outsourcing of Manpower related Services. This Dte had sought clarification from GeM in this regard. Clarification recd from GeM is att as Appx for info and summarized as below:-
(a) Based on justification of DRDO, CGDA vide their letter No IFA/142/ Outsourcing/4/2021 dt 01 Oct 2021 (copy att) has promulgated that MoD buyers can exercise the option to fix min service charge as 5% or lower than 5% on discretion of CFAs in case of high value contracts, for outsourcing of manpower contracts. However, this functionality is not yet available on GeM portal as directions from DoE/MoF are yet to be recd.
(b) ATCs. As an interim measure GeM has allowed buyers to incorporate ATCs regarding 5% or lower minimum service charges as deemed appropriate by the CFA.
(c) Disqualification of Defaulting Sellers
(i) During tech evaluation Buyers should seek clarification from Sellers regarding adherence to min service charge mentioned in ATC and disqualify defaulting sellers.
(ii) In case clarification is not sought during tech evaluation and a defaulting Seller becomes L1 after opening of fin bids, GeM helpdesk can be approached alongwith approval of competent auth to disqualify such unworkable L1.
2. For your info and necessary action pl.
(Virender Singh)
Col
Col FP-1 & Coord
Copy to :-
DCOAS(CD&S) Sectt/ Dir Budget
Ab AG Br/ Budget Cell
E-in-C/E2WTC/E3 Cell
GS Mov Plg/ADG Mov
DCOAS(IS&C) Sectt/ Dir Budget
QMG/ Budget
So-inC-/Dir Sigs-2
Dte Gen OL&SM/Coord
MGS/Budget Cell
 MI-15
Dte Gen RR/RR-4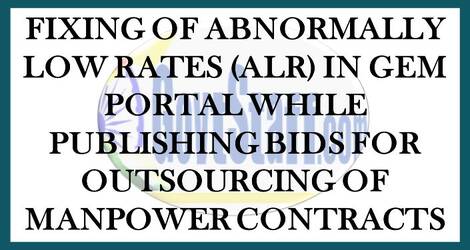 Source: Click here to view/download PDF