Opening of Jawahar Navodaya Vidyalaya in District Tirap (Arunachal Pradesh)
नवोदय विद्यालय समिति Navodaya Vidyalaya Samiti
शिक्षा मंत्रालय, भारत सरकार Ministry of Education, Govt. of India
(स्‍कूल शिक्षा और साक्षरता विभाग) (Deptt. of School Education & Literacy}
बी-15, इंस्‍टीट्यूशनल एरिया, सैक्‍टर-62, नोएडा, गौतम बुद्ध नगर (उ.प्र.)-201309
B-15, Institutional Area,Sector-62,NOIDA,GautamBudhNagar(U.P.)-201309
F. No. 2-27 /2016-NVS(GA)/778 Date: 22.02.2021
To,
The Secretary Education
Govt.of Arunachal Pradesh
Education Department
Civil Secretariat, Arunachal Pradesh,
Itanagar- 791 111
Subject : Opening of Jawahar Navodaya Vidyalaya in District Tirap (Arunachal Pradesh) – reg.
Sir,
I am to convey the approval of the Hon'ble Union Education Minister and Chairman, Navodaya Vidyalaya Samiti for establishment of Jawahar Navodaya Vidyalaya as per the details mentioned below subject to the conditions contained in this letter and also as per Inspection Report submitted by the Site Selection Committee.
Location of the Vidyalaya
Name of the District
Permanent Site:
Tirap (Arunachal Pradesh)
Village
:
Namsang (Sanjoanthung)
Post
:
Deomali
Town
:
Deomali
Block
:
Deomali / Namsang
Tehsil
:
Namsang
District
:
Tirap (Arunachal Pradesh)
PIN
:
729 129
Temporary Site:
Village
:
Kheti, Government Polytechnic College,
Post
:
Khonsa
Town
:
Khonsa
Block
:
Khonsa
Tehsil
:
Khonsa
District
:
Tirap (Arunachal Pradesh)
PIN
:
729 130
2. The Vidyalaya is to be made functional from the Academic Session 2020-21. For the effective management of the Vidyalaya, it has been decided to designate District Magistrate / Deputy Commissioner / Collector of the concerned district as the Chairman of the Vidyalaya Vianagement Committee.
3. The establishment of the aforesaid Jawahar Navodaya Vidyalaya is subject to following conditions:
a. The permanent site allotted for the construction of JNV complex will have to be made functional from the point of view of its utilization with provision of roads, access to the premises, supply of water, electricity, telephone connection etc. at the cost of the State Govt.
b. All minor repairs like white-washing, water connections, electricity connections for the buildings offered as temporary accommodation, should be immediately attended to by the District Authorities. Toilets / Washrooms, normally one each for every 10 students should also be got constructed, if not already constructed.
4. The land allotted for construction of Vidyalaya buildings shall be free from all encumbrances and rights and NVS will have no liabilities in this regard, in future.
5. If any of the conditions mentioned above and in the Inspection Report are not fulfilled, it will be open for the Samiti to re-consider the proposal and keep in abeyance the functioning of JNV in District Tirap (Arunachal! Pradesh).
6. In case any further clarification is required, the following officers of the Navodaya Vidyalaya Samiti Hqrs. may be contacted:
i.
Shri Vinayak Garg
Commissioner
–
0120-2975740-55
ii.
Shri G. Arumugam
Joint Commissioner (Admn.)
–
0120-2975751
iii.
Shri N. K. Pahwa
Deputy Commissioner (Admn.)
–
0120-2975743
iii.
Shri Raghuvendra Kumar
Assistant Commissioner (Admn.)
–
0120-2975749
Yours faithfully,
(Raghuvendra Kumar)
Assistant Commissioner (Admn.)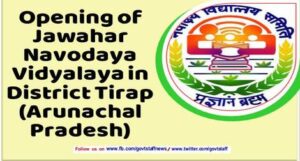 Source: Click here to view/download PDF